Lean on Pete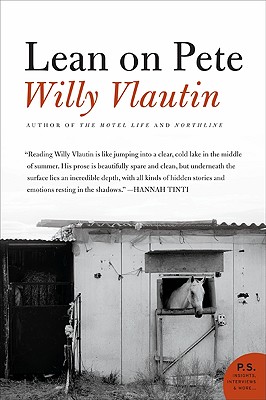 Lean on Pete
Harper Perennial, Paperback, 9780061456534, 277pp.
Publication Date: April 13, 2010
* Individual store prices may vary.
Buy at Local Store
Enter your zip code below to purchase from an indie close to you.
or
Buy Here
Description
" Vlautin] unearths a world Steinbeck would have recognised...where the American underclass still resides. Lean On Pete is an archetypal American novel, Huck Finn for the crystal-meth generation."
--Independent Extra
Author Willy Vlautin--"a major realist talent"(Seattle Post Intelligencer) who is often compared to Raymond Carver, John Steinbeck, and Denis Johnson--returns with Lean on Pete, the story of a 15-year old boy struggling to make his way to a long lost aunt, who just might give him a home. In the words of author Mark Billingham, "Vlautin is a truly original voice.... and] one of the best writers in America," and "Lean on Pete is powerful, heartbreaking stuff."

Praise For Lean on Pete…
"An archetypal American novel, Huck Finn for the crystal-meth generation...a sad, often brutal, but oddly beautiful portrait of an America that's forgotten only because we choose not to remember its continuing existence."
-Independent Extra

"Willy Vlautin's novels are clean as a bone, companionable, and profound. He is a master at paring loneliness and longing from his characters, issuing them through downturns, trials and transience without starving their humanity, and always sustaining them, and the reader, with ordinary hope."
-Sarah Hall

"Arguably his best so far…If you like melancholy Americana Vlautin's writing is for you."
-Bookseller (London), "Bookseller's Choice"

"Lean on Pete reminds me of the best parts of Gus Van Sant's beautiful film My Own Private Idaho. Willy's voice is pure and his stories universal. He never loses hope or heart and I believe every word he's written."
-Barry Gifford

"For anyone with a sentimental attachment to beasts of an equine nature, a river of tears awaits."
-The List, UK

"The comparisons with Steinbeck and Carver are richly deserved, yet Vlautin is a truly original voice…powerful, heartbreaking stuff. Just three novels in and Vlautin is already one of the best writers in America."
-Mark Billingham

"Reading Willy Vlautin is like jumping into a clear, cold lake in the middle of summer. His prose is beautifully spare and clean, but underneath the surface lies an incredible depth, with all kinds of hidden stories and emotions resting in the shadows."
-Hannah Tinti

"Willy Vlautin, plumbs the depths of despair but finally rewards you with redemption."
-Sunday Mercury

"Spare and unadorned, but nevertheless poetic...full of boundless compassion for the dispossessed and rootless."
-Uncut Magazine (FIVE STARS)

"Lean on Pete confirms his status as one of the most emotionally charged writers in America… Vlautin's characters, memorable however curtailed their cameos might be, become a sketchbook of America…The band has to be a hobby now. Vlautin is a writer."
-Sunday Herald, UK

"Among my favourite novels of the year have been Willy Vlautin's Lean on Pete which is possibly his bleakest yet."
-New Statesman, "Books of the Year"

"The writing is spare and straightforward…There is intensity in Vlautin's narration, and also beauty and power…Vlautin's major accomplishment lies in posing a damning question: How could we, as a society, have allowed this to happen?"
-Seattle Times