The Book of Air and Shadows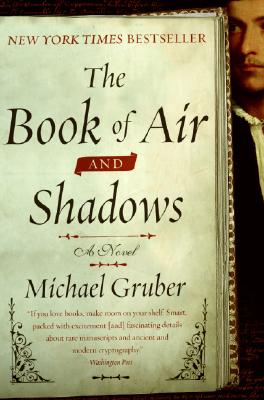 The Book of Air and Shadows
HarperTorch, Paperback, 9780061456572, 466pp.
Publication Date: February 26, 2008
* Individual store prices may vary.
Buy at Local Store
Enter your zip code below to purchase from an indie close to you.
or
Buy Here
Description
A fire destroys a New York City rare bookstore--and reveals clues to a treasure worth killing for. . . . A disgraced scholar is found tortured to death. . . . And those pursuing the most valuable literary find in history are about to cross from the harmless mundane into inescapable nightmare.
From the acclaimed, bestselling author of Tropic of Night comes a breathtaking thriller that twists, shocks, and surprises at every turn as it crisscrosses centuries, from the glaring violence of today into the dark shadows of truth and lies surrounding the greatest writer the world has ever known.
Praise For The Book of Air and Shadows…
"Few thrillers will surpass [this book] when it comes to energetic writing, compellingly flawed characters, literary scholarship and mathematical conundrums."
-USA Today

"A smart thriller. Gruber's themes may be lofty but his people are fully fleshed. An engaging adventure."
-Boston Globe

"If you love books, make room on the shelf for a new guilty pleasure."
-Washington Post

"An intricately crafted and literate work (that) should give the (thriller) genre a good shake."
-Denver Post

"Fearless, intricate and intelligent. Stylish and confident prose. Dialogue that respects a reader's intelligence. A smart and original plot."
-Seattle Times

"A dead genius, a sleuthing couple with romantic chemistry, and some bad guys...it's a fun party."
-Entertainment Weekly

"Very good...ingenious and suspenseful."
-Maclean's

"Entertaining. A wild ride."
-Charlotte Observer, Best Books of Summer

"Smart and irreverent."
-Arizona Republic

"(An) intoxicating mix of fact, fiction, secret codes and ancient conspiracies...well-written and cleverly told. A terrific thriller."
-Edmonton Journal (Canada)

"A crackling whodunit. Characters (with) rich inner lives that transmute genre fiction into literature."
-Dallas Morning News

"(An) entertaining thriller with Da Vinci Code appeal but far better writing."
-Ventura County Star

"Finely-honed prose, ambitious structure and captivating characters...This is a whip-smart adventure that surpasses its competitors with dexterity."
-Rocky Mountain News

"Quirky, flawed characters, tricksy first-person narration, and nimble, witty prose. Gruber is the real deal."
-Salon.com

"Another one of [Gruber's] patently intricate thrillers."
-TheMorningNews.com

"Gruber is no ordinary writer."
-Milwaukee Journal Sentinel

"A gripping literary thriller. A taut novel that offers ingenious puzzles plus murderous threats along the way."
-Seattle Post-Intelligencer

"MIchael Gruber pulls out all the stops (in) an elaborate game of cat-and-mouse."
-Newsday

"(An) intelligent thrill ride."
-Tampa Tribune

"Ingenious...engaging...a gripping, satisfying read."
-Publishers Weekly (starred review)

"A wonderful book, brimming with energy, suspense, wit and fascinating details about the rare book business. A fast-paced yarn that is part Henry James, part James Bond.
-Chicago Tribune

"A wild ride of a thriller. The characters have depth, histories and believability."
-Wichita Eagle

"Gruber deftly raises the thriller stakes and accelerates the plot while still creating convincing personal journeys for his characters."
-Booklist (starred review)

"Not since Bayatt's POSSESSION has an author so successfully combined literary puzzle, tempestuous duplicity, human adventure and good storytelling."
-BookPage

"A fast-moving tale about the world of rare books. A wonderful story with absolutely superb casting."
-Kirkus Reviews (starred)

"One of the best new writers in the genre."
-Charlotte Observer