So Much for That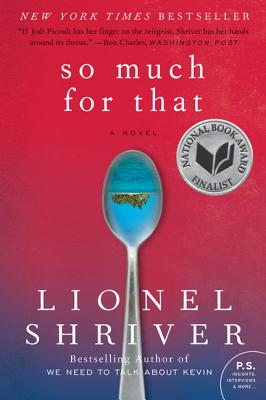 So Much for That
Harper Perennial, Paperback, 9780061458590, 436pp.
Publication Date: March 8, 2011
* Individual store prices may vary.
Buy at Local Store
Enter your zip code below to purchase from an indie close to you.
or
Buy Here
Description
Shep Knacker has long saved for "the Afterlife," an idyllic retreat in the Third World where his nest egg can last forever. Exasperated that his wife, Glynis, has concocted endless excuses why it's never the right time to go, Shep finally announces he's leaving for a Tanzanian island, with or without her. Yet Glynis has some news of her own: she's deathly ill. Shep numbly puts his dream aside, while his nest egg is steadily devastated by staggering bills that their health insurance only partially covers. Astonishingly, illness not only strains their marriage but saves it.
From acclaimed New York Times bestselling author Lionel Shriver comes a searing, ruthlessly honest novel. Brimming with unexpected tenderness and dry humor, it presses the question: How much is one life worth?
About the Author
Lionel Shriver s novels include The New Republic, the National Book Award Finalist So Much for That, New York Times bestseller The Post-Birthday World, and the international bestseller We Need to Talk About Kevin. Her journalism has appeared in The Guardian, The New York Times, The Wall Street Journal, and many other publications. She lives in London and Brooklyn, NY.
Praise For So Much for That…
"The rare novel that will shake and change you. With these wholly realistic and sympathetic characters, [Shriver] makes us consider the most existential questions of our lives and the dreadful calculus of modern health care in this country…. It's a bitter pill, indeed, but take it if you can."
-Ron Charles, Washington Post

"A visceral and deeply affecting story, a story about how illness affects people's relationships, and how their efforts to grapple with mortality reshape the arcs of their lives…. [Shriver's] understanding of her people is so intimate, so unsentimental…it lofts these characters permanently into the reader's imagination."
-Michiko Kakutani, New York Times

"A delicious novel. . . . So Much for That, Lionel Shriver's improbably feel-good black comedy, is the rare book that can make suicide, near-bankruptcy and terminal cancer so engaging you can't wait to turn the page. . . . Provocative, entertaining-and so very timely."
-Jocelyn McClurg, USA Today

"Shriver writes in precise, dynamic prose…. If anyone's going to perk up the often-limp niceness of the women's novel it's Shriver, who has no use for earth mothers or noble victims…. The climax offers more fun, vengeful satisfaction and pure tenderness than any treatise on the future of healthcare."
-Ella Taylor, Los Angeles Times

"[An] immaculate, hilarious, and authentically dark new novel. . . . A cast of characters as absurd and entertaining as they are real."
-Cathi Hanauer, Elle

"Brave, bold. . . . A page turner. . . . Brilliantly funny and a superb plotter, Shriver is a master of the misanthrope. . . . [A] viciously smart writer."
-Mary Pols, Time

"[A] shrewd, ambitious novel. . . . Shriver's prose is frank and often beautiful . . . nuanced and persuasive."
-The New Yorker

"Neither stingy with subplots nor shy about taking on timely, complex issues, [Shriver] tosses plenty of both into the pot with real daring and brio."
-Leah Hager Cohen, New York Times Book Review

"Harrowing yet riveting.... Wisely, Shriver doesn't make her characters all saints.... [They] come alive with visceral abandon.... Clever, convincing...stubbornly real-and chillingly personal."
-Julia Keller, Chicago Tribune

"[Shriver] certainly has her finger on national nerves."
-Birmingham Post