At the Gates of Darkness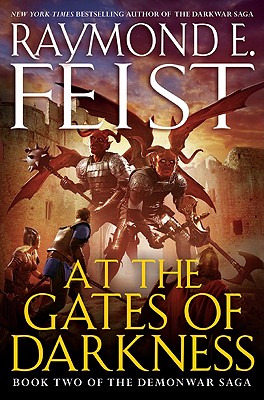 At the Gates of Darkness
Book Two of the Demonwar Saga
Harper Voyager, Hardcover, 9780061468377, 320pp.
Publication Date: April 1, 2010
* Individual store prices may vary.
Buy at Local Store
Enter your zip code below to purchase from an indie close to you.
or
Not Currently Available for Direct Purchase
Description
Ten years after the terrible Darkwar finally ended, catastrophe once again threatens to engulf Midkemia and Kelewan, as the demon hordes continue their relentless quest to infiltrate this realm of magic and wonder. . . .
At the Gates of Darkness
Book Two of the Demonwar Saga
To protect their world from the savage demon hordes, the Black Sorcerer Pug and Midkemia's clandestine protectors, the Conclave of Shadows, forged an uneasy alliance of formidable magical talents. Together, this brave band of wizards, demon masters, warriors, and elves defeated the brutal Demon King Maarg and turned back the onrushing death tide.
But Maarg's fall has not stopped the demonic onslaught, and danger now looms greater than ever before. Amid the barren ridges of the Valley of Lost Men, in the shadows of an ancient Keshian fortress, the fearsome demon Dahun and the mad necromancer Belasco have joined forces, creating an unstoppable union of deathly black magics that even Pug and a united Conclave may not be strong enough to withstand.
Battling the Demon Legion has taken a heavy blood toll on the valiant and dedicated magician, claiming the lives of nearly all those he loves. Though he is racked by despair and rage, Pug knows that the time for mourning must wait. Putting aside his pain, he and the Conclave and their allies—the cold-blooded master spy Jim Dasher; the fearsome young Knight-Adamant Sandreena; her former lover the necromancer Amirantha; two renegade Star Elves; and Pug's surviving son, Magnus—must marshal their resources against this latest threat. None can forget the dozens of worlds overrun by the demon plague and the millions of dead left behind in their wake. At the gates of darkness, where shadows hide even deeper shadows, these magical defenders will face what is sure to be the bloodiest, nastiest fight their land has ever seen. And as evil, mayhem, and dark magic are unleashed, none can predict if they—and Midkemia itself—will survive.
About the Author
New York Times bestselling author Raymond E. Feist's previous novels include the Demonwar Saga (Rides a Dread Legion and At the Gates of Darkness); the Darkwar Saga (Flight of the Nighthawks, Into a Dark Realm, and Wrath of a Mad God); the Conclave of Shadows (Talon of the Silver Hawk, King of Foxes, and Exile's Return); the Riftwar Legacy (Krondor: The Betrayal, Krondor: The Assassins, and Krondor: Tear of the Gods); the Serpentwar Saga (Shadow of a Dark Queen, Rise of a Merchant Prince, Rage of a Demon King, and Shards of a Broken Crown); the Riftwar Saga (Magician, Silverthorn, and A Darkness at Sethanon); Faerie Tale; The Prince of the Blood; and The King's Buccaneer. Feist lives in San Diego, California.