A Kingdom Besieged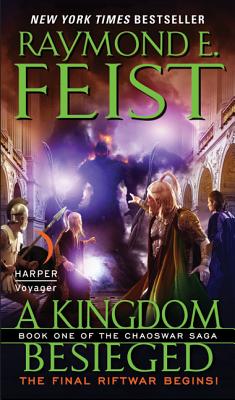 A Kingdom Besieged
Voyager, Mass Market Paperbound, 9780061468407, 379pp.
Publication Date: February 28, 2012
* Individual store prices may vary.
Buy at Local Store
Enter your zip code below to purchase from an indie close to you.
or
Buy Here
Description
For years following the terrible Serpentwar, the Empire of Great Kesh remained peaceful, but now dark clouds of conflict gather once more. Rumors abound from the Kingdom's far western borders of spies missing, murdered, and turned. Powerful legions from the Keshian Confederacy are being mobilized, and an attack is all but certain. As his legendary ancestor Prince Arutha did, Martin conDoin, middle son of the Duke of Crydee, must defend the lands against the invaders. But Arutha commanded a mighty army. Martin has only old men and young boys.
Pug, Midkemia's most powerful magician, fears what is in the wind, for he senses an encroaching darkness whose growing power surely spells his world's end. And soon the Kingdom's enchanted defender will find himself questioning everything he's ever held true and dear... including the loyalty and desires of his beloved son, Magnus.
Praise For A Kingdom Besieged…
"Originality and wit a rollicking tale Feist's narrative skill, ingenuity at creating systems of magic, and eye for plausible militaryscenarios stand him in good stead. His many fans will be pleased."
-Booklist

"Sheer readability."
-San Francisco Chronicle

"[Feist] introduces a new dimension to his universe and added new depth to recurring characters while creating fascinating new heroes and villains. With a fast pace and clean, crisp storytelling, this fantasy saga belongs in most libraries."
-Library Journal

"A promising start to what looks like a strong, dire trilogy of fantastic adventure."
-San Diego Union-Tribune

"Fast action, appealing characters, and a splendid setting will delight readers of fantasy and leave them eager for the next battle."
-Kirkus Reviews

"A massive, entertaining tale."
-Fort Lauderdale Sun-Sentinel

"There's an evil sparkle here, brighter and hotter than any of Feist's works since the Magician trilogy. The Dasati and their world are sumptuously realised . . . It's an entertaining, at times intoxicating mixture."
-SF Site

"Feist brings a new world alive."
-The Oregonian (Portland)

"Originality and wit... A rollicking tale... [Feist's] narrative skill, ingenuity at creating systems of magic, and eye for plausible military scenarios stand him in good stead. His many fans will be pleased."
-Booklist

"Feist has a natural talent for keeping the reader turning pages."
-Chicago-Sun Times

"[A] compelling and profoundly moving tale… an invaluable addition to a beloved canon."
-barnesandnoble.com

"This tale of shape-shifting magicians, human sacrifice, man-eating demons, and a little young love will satisfy Feist's fans, and the ending will leave them waiting for another volume."
-Publishers Weekly

"Action and intrigue and evocative writing . . . Feist brings a new world alive."
-The Oregonian (Portland)

"A sensitive coming-of-age tale in which brutality and camaraderie are equally present, Feist's newest saga has a freshness of vision that suggests it will avoid the staleness that often eats away at multi-volume epics."
-Publishers Weekly

"An epic reading experience . . . Unpretentious, fast-paced . . . Shadow of a Dark Queen works admirably."
-San Diego Union-Tribune

"A story of redemption and heroism featuring an unlikely hero . . . This classic fantasy should find a welcome audience among the author's fans."
-Library Journal

"A great read and a wonderful addition to Feist's collection."
-SF Site

"An action-packed story of intrigue and betrayal."
-Library Journal

"A fine yarn . . . vivid . . . suspenseful . . . The action is nonstop.
-Booklist

"As usual, Feist brings this off wonderfully."
-Science Fiction Chronicle

"Another crowd-pleaser for Feist to add to his already impressive resume."
-Publishers Weekly on King of Foxes

"CLASSIC."
-Chicago Tribune

"Feist has the universe firmly under his control, and the adventure is grand[.]"
-Contra Costa Times

"Feist's fans will look forward to the saga's final episode."
-Publishers Weekly

"Feist is at his best."
-Science Fiction Chronicle

"Originality and wit . . . A rollicking tale . . . Feist's narrative skill, ingenuity at creating systems of magic, and eye for plausible military scenarios stand him in good stead. His many fans will be pleased."
-Booklist

"In the forefront of contemporary fantasy adventure."
-Library Journal

"FUN . . . A place to start for those yet to discover Feist's fantasy worlds."
-Locus

"Fine entertainment . . . Feist works his signature magic . . . an absorbing and carefully crafted adventure with pleasing density of plotting, good characterization . . . this is populist Dickens out of Tolkien, and it works."
-Sydney Morning Herald

"Sure to please Feist fans and win new ones."
-Publishers Weekly

"Splendid . . . fast action, appealing characters . . . (It) will delight readers of fantasy."
-Kirkus Reviews

"Shows Feist in top form."
-Adelaide Advertiser

"This simple, charming fairy tale will appeal to adult fans of the Riftwar books as well as mature teens who don't mind a bit of romance in their sword-and-sorcery."
-Publishers Weekly

"This is a series that gets better as it goes along."
-Science Fiction Chronicle

"With his storytelling mastery and ear for colorful language and nuance, the author of numerous books set in the dual worlds of Midkemia and Kelewan here launches a series that takes his fantasy universe into a whole new phase. "
-Library Journal

"The prose is smooth, the plot is exactly what you'd expect and the characters do exactly what Feist tells them . . . File under guilty pleasure."
-The Guardian

"The most interesting character in the saga to date, Kaspar . . . another complicated and compelling protagonist . . . [W]ill have Feist fans eagerly awaiting the next installment."
-Publishers Weekly

"Well-paced storytelling by a veteran entertainer."
-Kirkus Reviews