De Niro's Game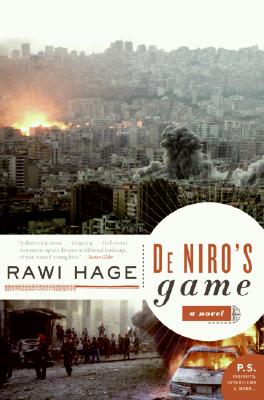 De Niro's Game
Harper Perennial, Paperback, 9780061470578, 277pp.
Publication Date: August 5, 2008
* Individual store prices may vary.
Buy at Local Store
Enter your zip code below to purchase from an indie close to you.
or
Buy Here
Description
Childhood best friends Bassam and George have grown to be men in war-ravaged Beirut. Now they must choose between the only two futures available to them: to stay in the devastated city and consolidate power through crime or to go into exile abroad, alienated from the only existence they have ever known.
Told in a distinctive, captivating voice that fuses vivid cinematic imagery, a page-turning plot, and exquisite, dark poetry, De Niro's Game is an explosive portrait of life in a war zone and a powerful meditation on what comes after. It won the prestigious International IMPAC Dublin Literary Award in 2008.
Praise For De Niro's Game…
"...a hallucinatory vision of how war corrupts even friendship. Written in English and calling upon Arabic poetry and French philosophy, De Niro's Game forms an intriguing trilingual hybrid that should cement its appeal worldwide."
-Washington Post

"...an impressive first outing for Hage."
-Publishers Weekly (starred review)

"East meets West in this stunning first novel yielding a totally fresh perspective on war-torn Beirut."
-Booklist (starred review)

"...the language, restless, enervated, slides from blunt and colorless to the candenced, figuring [the protagonist's] world's endless cycle of revolution and despair...Remarkable."
-Los Angeles Times

"Hage brilliantly condenses these short, incendiary lives: while the setting is relatively contemporary, the conflict and language are centuries old."
-The Guardian (London)

"...vividly evocative of the chaos of conflict and the moral confusion of young men.
-Daily Telegraph (London)

"...Hollywood noir meets opium dreams in a blasted landscape of war-wasted young lives."
-Boston Globe

"Rawi Hage's debut novel burns with a white-hot brilliance..."
-Charlotte Observer

"...you'll find it hard not to think of the fevered dream of Howl."
-Village Voice

"...a soaring, lyrical triumph...this novel isn't reportage; it's troubling and transcendent art.
-Washington City Paper

"Hage is a talented and versatile writer who will certainly raise the threshold of Anglophone Arab-Canadian fiction."
-The International Fiction Review (online)

"Oustanding...this extraordinary novel of two young men surrounded by the violence and tragedy of the Lebanese Civil War hits you in the stomach. Do support it."
-Bookseller (London)

"Canadian author Rawi Hage's exhilarating debut novel captures a dreamlike, cacophonous Beirut during the Lebanese civil war...Hage's scattergun prose['s]... impact lingers long after the last bomb has landed."
-The Observer (England)

"It is a viciously intense, poetically raw story, interspersed with moments of dark humor..."
-BookBrowse.com