Serena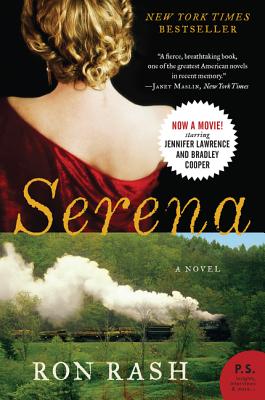 Serena
Ecco Press, Paperback, 9780061470844, 400pp.
Publication Date: September 29, 2009
* Individual store prices may vary.
Buy at Local Store
Enter your zip code below to purchase from an indie close to you.
or
Buy Here
Description
A New York Times bestseller and PEN/Faulkner Award Finalist, Serena by award-winning author Ron Rash is "masterfully written...sprawling, engrossing and--from time to time--nightmarish," (San Francisco Chronicle); a remarkable novel that "recalls both John Steinbeck and Cormac McCarthy," (The New Yorker). Rash's chilling gothic tale of greed, corruption, and revenge set against the backdrop of the 1930s wilderness and America's burgeoning environmental movement was named a Best Book of the Year by more than a dozen national publications, including the New York Times, Washington Post, San Francisco Chronicle, Chicago Tribune, and Miami Herald. Serena is brilliant contemporary fiction that exquisitely balances beauty and violence, passion and rage, cruelty and love.
Praise For Serena…
"Beautifully written, utterly unforgettable. To my mind, this novel, as powerful and inexorable as a thunderstorm, is as good a piece of fiction as was published last year and a new classic in the category of love gone terribly wrong."
-Anna Quindlen, The Daily Beast

"A gorgeous, brutal writer."
-Richard Price, bestselling author of LUSH LIFE

"Ron Rash's SERENA will stand as one of the major American novels of this century. It is a flat-out masterpiece-mythic, terrifying, and beautiful."
-Lee Smith

"From the moment she steps off the train, Serena Pemberton commands center stage in Ron Rash's rough-hewn tale of unchecked ambition. Universal in scope, frightening in its brutality, Serena is an unflinching vision of blighted souls played out against the backdrop of a nearly-lost Appalachia."
-David Wroblewski, New York Times bestselling author of The Story of Edgar Sawtelle

"[Rash] has outdone himself. The story of this brilliant, ambitious, seductive woman is a searing tragedy of Shakespearean proportions—or, in simpler terms, a damn good book that will keep you awake far too late and, well after you've finished it, haunt your dreams."
-Julia Glass, National Book Award winning author of THREE JUNES

"A powerful tale, well told, SERENA is enriched by Rash's artful use of language. With just the right turn of phrase, dead-on details and subtle use of symbol, he delivers a story that will remain with readers long after the final page."
-Charlotte Observer

"Beautifully written…"
-Seattle Times

"The opening is unforgettable…the last hundred pages are thrilling…should be a breakthrough for this masterful storyteller."
-Kirkus Reviews (starred review)

"An Appalachian retelling of Macbeth, a thriller, a word-perfect evocation of an era and a people, a grim chapter in the history of conservation: if Serena doesn't finally win Ron Rash the overdue attention of the national literary (and cinematic) establishments, I can't imagine what they're holding out for."
-Arthur Phillips, author of Prague

"This is a must-read novel."
-About.com (Contemporary Literature)

"Rash is a storyteller of the highest rank and SERENA confirms this from the opening sentence to the final page. An epic achievement."
-Jeffrey Lent, bestselling author of IN THE FALL

"Ron Rash's new novel Serena catapults him to the front ranks of the best American novelists. This novel will make a wonderful movie, and the brave actress who plays Serena is a shoe-in for an Academy Award nomination."
-Pat Conroy

"With bone-chilling aplomb, linguistic grace and the piercing fatalism of an Appalachian ballad, Mr. Rash lets the Pembertons' new union generate ripple after ripple of astonishment."
-Janet Maslin, The New York Times

"A harrowing tour de force that might be the most timely and dangerous novel released this fall... Rash has gone beyond any Southern gothic tale to weave a complex and riveting portrait in the tradition of Gabriel Garcia Marquez...brilliantly conceived."
-Huffington Post

"Too hypnotic to break away from...And the final chapter is as flawless and captivating as anything I've read this year, a perfectly creepy shock that will leave you hearing nothing but the wind between the stumps."
-Washington Post Book World

"From that arresting opening…the violence escalates along with the tension in this absorbing story about rapacious greed in Depression-era Appalachia…Thrilling stuff."
-People

"Masterfully written...The book is consistently heartbreaking in its portrayal of what humans are capable of…sprawling [and] engrossing."
-San Francisco Chronicle