State by State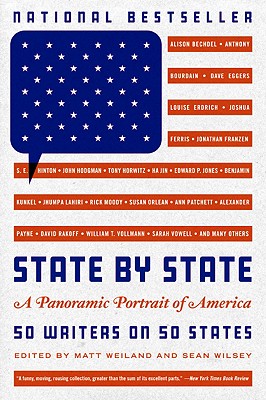 State by State
A Panoramic Portrait of America
Ecco Press, Paperback, 9780061470912, 608pp.
Publication Date: September 29, 2009
* Individual store prices may vary.
Buy at Local Store
Enter your zip code below to purchase from an indie close to you.
or
Buy Here
Description
See America with 50 of Our Finest, Funniest, and Foremost Writers Anthony Bourdain chases the fumigation truck in Bergen County, New Jersey
Dave Eggers tells it straight: Illinois is Number 1
Louise Erdrich loses her bikini top in North Dakota
Jonathan Franzen gets waylaid by New York's publicist...and personal attorney...and historian...and geologist
John Hodgman explains why there is no such thing as a "Massachusettsean"
Edward P. Jones makes the case: D.C. should be a state
Jhumpa Lahiri declares her reckless love for the Rhode Island coast
Rick Moody explores the dark heart of Connecticut's Merritt Parkway, exit by exit
Ann Patchett makes a pilgrimage to the Civil War site at Shiloh, Tennessee
William T. Vollmann visits a San Francisco S&M club and Many More.
Praise For State by State…
"[State by State] is a funny, moving, rousing collection, greater than the sum of its excellent parts, a convention of literary superdelegates, each one boisterously nominating his or her piece of the Republic."
-New York Times Book Review

"This fascinating collection, inspired by guides in the 1930s and 1940s, includes original essays on each of the states by some of the country's finest (mostly younger) writers."
-Seattle Post-Intelligencer

"Self-consciously modeled after state guides sponsored by the Federal Writers' Project in the 1930s, this ambitious effort features a terrific roster of writers."
-Kirkus Reviews

"Fascinating."
-Seattle Post-Intelligencer

"Odds are, reading STATE BY STATE, that you'll fall for every state a little, even if they remain tremendously hard to explain."
-Los Angeles Times

"This eclectic collection of essays describing the ordinary people and places within our 50 states is as essential as the Rand McNally atlas. Alternately brash and bashful...each literary foray in State by State is well worth the trip. Grade: A."
-Entertainment Weekly

"An enjoyable journey: 50 essays, cartoons and mini-plays, plus an afterward about Washington, DC and a fascinating appendix…all in all, it makes one yearn for a driver's license and a stretch of open highway."
-New York Post

"Ideal nightstand reading and a welcome reminder of the pluribus behind the unum."
-Salon.com