Anathem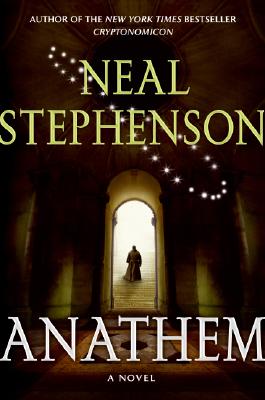 Anathem
William Morrow, Hardcover, 9780061474095, 960pp.
Publication Date: September 9, 2008
* Individual store prices may vary.
Buy at Local Store
Enter your zip code below to purchase from an indie close to you.
or
Not Currently Available for Direct Purchase
Description
A #1 New York Times Bestseller, Anathem is perhaps the most brilliant literary invention to date from the incomparable Neal Stephenson, who rocked the world with Snow Crash, Cryptonomicon, and The Baroque Cycle. Now he imagines an alternate universe where scientists, philosophers, and mathematicians live in seclusion behind ancient monastery walls until they are called back into the world to deal with a crisis of astronomical proportions. Anathem won the Locus Award for Best Science Fiction Novel and the reviews for have been dazzling: "Brilliant" (South Florida Sun-Sentinel), "Daring" (Boston Globe), "Immensely entertaining" (New York Times Book Review), "A tour de force" (St. Louis Post-Dispatch), while Time magazine proclaims, "The great novel of ideas...has morphed into science fiction, and Neal Stephenson is its foremost practitioner."
Praise For Anathem…
"Clever and intricate...truly ingenious...it's brilliance is undeniable."
-Locus, Gary K. Wolfe on ANATHEM

"A masterpiece...mind-bogglingly ambitious...readers will delight in puzzling out the historical antecedents in philosophy, science, mathematics, and art that Stephenson riffs on with his customary quicklsilver genius...it's one of the most thought-provoking novels I've ever read, and also one of the most engaging."
-Locus, Paul Witcover, on ANATHEM

"Reading Anathem is a humbling experience."
-Washington Post on ANATHEM

"Blending quantum physics, phenomenological philosophy and various other fun hobbies...Stephenson's enthusiasm to share his theories and explanations is infectious...think "The Name of the Rose" crossed with "Dune"...genuinely fascinating brain food."
-The Oregonian (Portland) on ANATHEM

"Stephenson writes in twists and turns, double-backs and cul-de-sacs, winding tunnels and fast-moving tracks. It's a Rube Goldberg sort of book: intricate, sometimes difficult to follow but always fascinating to read."
-Grand Rapids Press on ANATHEM

"In Anathem, Stephenson creates a religion for skeptics and nerds."
-Austin American-Statesman on ANATHEM

"The Seattle writer is kind of a cross between William Gibson and Richard Powers, hard-wired to tell stories, explore technology and riff on anything that catches his fancy."
-The Oregonian (Portland) on ANATHEM

"Learned, witty, weirdly torqued, emotionally complex, politically astute, and often darkly comic…ANATHEM is an audacious work by a highly intelligent imagination, a delightfully learned text."
-Edmonton Journal (Alberta) on ANATHEM

"The cult legend's newest book, Anathem, [is] destined to be an instant sci-fi classic."
-Popular Mechanics on ANATHEM

"Stephenson displays his ingenuity when it comes to mixing science, sociology and satire with swashbuckling adventure. Anathem marries extensive scientific and philosophical dialogues to cliffhangers, hi-tech warfare and derring-do."
-Sunday Sun (UK) on ANATHEM

"A magnificent achievement. "
-Booklist (starred review) on ANATHEM

"Anathem is a challenge: Make yourself one of the avout. Make yourself a scholar, and try to understand the world a little differently."
-Eugene Weekly on ANATHEM

"It's almost impossible to not be impressed by Anathem; there's simply too much erudition, wit, craft and risk-taking."
-San Francisco Chronicle on ANATHEM

"[O]ne of Stephenson's best novels…a captivating blend of culture clash, deductive reasoning and pure action."
-Columbus Dispatch on ANATHEM

"[R]iveting idea porn."
-Details on ANATHEM

[R]avishingly brilliant, outrageously ambitious…Stephenson embarks on a mission of world-building, and he is thoroughly successful at it."
-South Florida Sun Sentinel on ANATHEM

"This is a book about science and philosophy which demands the full concentration of the reader -a worthwhile, smart, exciting read."
-Time Out London

"Anathem is a brilliant, playful tour of the terrain where logic, mathematics, philosophy and quantum physics intersect, a novel of ideas par excellence, melding wordplay and mathematical theory with a gripping, human adventure."
-London Times on ANATHEM

"Stephenson's expansive storytelling echoes Walter Miller's classic A Canticle for Leibowitz, the space operas of Larry Niven and the cultural meditations of Douglas Hofstadter – a heady mix of antecedents that makes for long stretches of dazzling entertainment."
-Publishers Weekly on ANATHEM

"The world Stephenson builds is richly visual, its complicated social politics are convincingly detailed, and its cool and conflicted heroes struggle with thrilling intellectual puzzles while they are tested in epic physical adventures."
-Slate, Best of 2008 List, on ANATHEM

"A sprawling disquisition…[a] logophilic treat for those who like their alternate worlds big, parodic and ironic."
-Kirkus Reviews on ANATHEM

"What ever happened to the great novel of ideas? It has morphed into science fiction, and Stephenson is its foremost practitioner. A-"
-Time magazine on ANATHEM

"A daring feat of speculative fiction…ANATHEM offers the reader a luscious arrangement of words, jokes, and speculations."
-Boston Globe

"He mashes up genres with the flair of Thomas Pynchon and the intellect of William Gibson."
-Winnipeg Free Press on ANATHEM

"Anathem duly marries extensive dialogues on quantum mechanics and the nature of consciousness to literal cliffhangers, hi-tech warfare and derring-do."
-Leicester Mercury on ANATHEM

"Anyone who has read Stephenson's Baroque Cycle will be familiar with his ingenuity when it comes to mixing science, sociology and satire with swashbuckling adventure, and ANATHEM duly marries extensive dialogues on quantum mechanics and the nature of consciousness to literal cliffhangers, high-tech warfare and general derring-do."
-The Examiner (Ireland) on ANATHEM

"As with Stephenson's previous work, plot and character are wrought to the highest standards of literary fiction but they're scarcely as fascinating as the worlds he conjures up. If there's anything more readable than ANATHEM it should probably be banned."
-Word (UK) on ANATHEM

"A tour-de-force of world building and high-concept speculation, wrapped around a page-turning plot."
-St. Louis Post-Dispatch on ANATHEM

"[R]avishingly brilliant, outrageously ambitious…ANATHEM is thought-provoking fun, at turns a post-graduate seminar of philosophy and physics, and a rousing yarn with characters you care about."
-Orlando Sentinel on ANATHEM

"Suddenly, novels of ideas are cool again."
-io9 on ANATHEM