Bardisms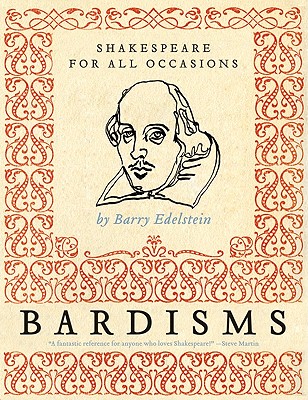 Bardisms
Shakespeare for All Occasions
Harper Perennial, Paperback, 9780061493522, 274pp.
Publication Date: February 2010
* Individual store prices may vary.
Buy Now
or
Shop Local
Enter your zip code below to purchase from an indie close to you.
Description
Looking for an ideal toast, quip, or remark for that special occasion or the perfect pithy comment to enliven an everyday conversation? Ask Shakespeare
A wedding vow "To you I give myself, for I am yours" (As You Like It)
A birthday greeting to me, fair fried, you can never be old. (Sonnet 104)
Party time "Let's mock the midnight bell." (Antony and Cleopatra)
The plays and poetry of the Immortal Bard make up a vast repository of wit and wisdom, insight and passion. If there's an occasion that needs commemorating, chances are there are some lines from Shakespeare that will do the job right. Whether you want to "speak the speech" with verve and flair or craft an elegant toast, lecture, or missive, world-renowned Shakespearean director and teacher Barry Edelstein will help you find the perfect "Bardism" for any occasion.
About the Author
A theater director noted for his productions of the plays of William Shakespeare, Barry EdeLstein has taught Shakespeare at the Juilliard school, the graduate acting program at NYU, the Public Theater's Shakespeare Lab, and in master classes around the United States and abroad. The list of actors he has directed includes Anne Hathaway, Hwyneth Paltrow, John Turturro, Kevin Kline, Jeffrey Wright, and others. Edelstein lives in Brooklyn, New York.
Praise For Bardisms…
"A fantastic reference for anyone who loves Shakespeare!"
-Steve Martin

"Shakespeare always said it best, and after reading this accessible and insightful book, 'I am sorry that with better heed and judgment I had not quoted him.' (Hamlet)"
-Kevin Kline

"No Google search can discover all of what's in this book, which is a cornucopia of the Bard's wit and wisdom. Barry Edelstein's book is pure pleasure, a reference book for every occasion, a substitute for a game of charades, and a teaching guide for life."
-Ken Auletta, author and New Yorker writer

"Bardisms is smart, accessible, and fun and could only have been crafted by someone as passionate and knowledgeable as Barry Edelstein. It is the perfect book to help people put Shaksepeare, not up on some shelf, but in their everyday lives."
-George C. Wolfe, writer/director/producer

"Browse the delightful Bardisms to find a fitting quote for any mood, moment, or occasion. But read it through to learn how to enjoy Shakespeare and bring more of his language into your daily life."
-Jacob Weisberg, Editor, Slate Magazine, author Bushisms

"Barry Edelstein's passion for the Bard and sheer knowledge of his works is inspiring. Bardisms is an eloquent and enlightening book that allows everyone to feel like an expert on Shakespeare."
-America Ferrera