Zot!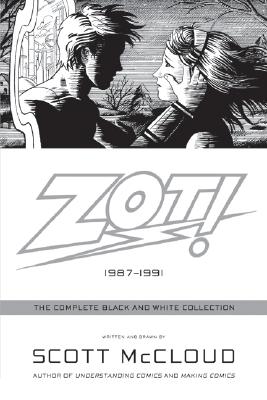 Zot!
The Complete Black and White Collection: 1987-1991
Harper Paperbacks, Paperback, 9780061537271, 575pp.
Publication Date: July 22, 2008
* Individual store prices may vary.
Buy at Local Store
Enter your zip code below to purchase from an indie close to you.
or
Buy Here
Description
Long before manga took the American comics market by storm, Scott McCloud (Understanding Comics, Making Comics) combined the best ideas from manga, alternative comics, and superheroes into Zot a frenetic and innovative exploration of comics' potential that helped set the stage for McCloud's later groundbreaking theoretical work.
Zachary T. Paleozogt lives in "the far-flung future of 1965," a utopian Earth of world peace, robot butlers, and flying cars. Jenny Weaver lives in an imperfect world of disappointment and broken promises the Earth we live in. Stepping across the portals to each other's worlds, Zot and Jenny's lives will never be the same again.
Now, for the first time since its original publication more than twenty years ago, every one of McCloud's pages from the black and white series has been collected in this must-have commemorative edition for aficionados to treasure and new fans to discover.
Includes never-before-seen artwork and extensive commentary by Scott McCloud
Praise For Zot!…
"[A] wonderful collection…highly recommended."
-Library Journal

"Thoroughly charming...the series's thoughtful joy spills over into its airy, bouncy design sense."
-Washington Post Book World

"McCloud is one of the major talents in the comics world."
-Sacramento Book Review

"Essential...a stunning revelation...the packaging alone is fantastic...It's long past time for a critical re-appraisal of these tender, delicate, overwhelmingly ambitious early stories, and what they tried to accomplish as well as what they actually did accomplish."
-The Onion A.V. Club

"A brilliant superhero series that still holds up to the test of time 20 years later."
-Daily News

"[S]ure to be a treasure trove for McCloud fans or lovers of intelligent retro comics action."
-Publishers Weekly

"[D]elightful...Zot! has aged surprisingly well, and now it seems prescient in being strongly influenced by Japanese comics well before manga was common in America."
-Booklist

"Shows that [McCloud] is not only an avid student and chronicler of comics, but an incredibly talented cartoonist...illuminates McCloud's genius as he blends Eastern and Western comics influences into a mesmerizing superhero tale."
-David Gutowski for Largehearted Boy

"Honestly, comics just don't get any better than this."
-Gary Tyrrell for Fleen.com

"One of comics' best written, and most overlooked, titles...a stylish, often light-hearted, and yet dramatically compelling comic."
-Edge Boston

"With a smart-looking trim size and a sharp design that includes cover flaps and a stark-but-beautiful cover, Zot!: The Complete Black and White Collection is an admirable addition to one's bookshelf."
-Comic Book Resources.com

"To suggest I was enthralled by McCloud's pop commentary about hope and beauty in the world would be to embrace understatement…well crafted, entertaining and even challenging…9 out of 10."
-Don MacPherson for Eye on Comics.com

"The classic retrofit of the post-war comics gestalt."
-William Gibson, author of Spook Country

"Zot! is refreshing, lively, and truly entertaining."
-Samuel R. Delany, author of Dark Reflections

"Zot! is wonderful…and should please readers of all ages.
-Greg Bear, author of Quantico

"Zot! is a remarkable graphic narrative. "
-Richard A. Lupoff