La Heredera del Mar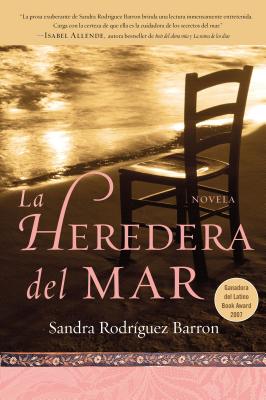 La Heredera del Mar
Rayo, Paperback, 9780061555053, 333pp.
Publication Date: June 3, 2008
* Individual store prices may vary.
Buy at Local Store
Enter your zip code below to purchase from an indie close to you.
or
Buy Here
Description
En una clÍnica remota sobre una playa de arena negra, una mujer abre sus ojos . . .
Cuando la joven MÓnica Winters Borrero pierde su madre encantadora en un accidente marÍtimo, ella se encuentra exiliada del paraÍso tropical que una vez fue su hogar. En duelo y alejada de una vida dentro de la sociedad salvadoreÑa, MÓnica y su padre estadounidense se mudan a Connecticut, jurando nunca mirar hacia atrÁs.
AÑos mÁs tarde, un intrigante desconocido, quien tambiÉn habÍa sobrellevado una terrible pÉrdida, entra en la vida de MÓnica con un pedido muy inusual. Con este encuentro, MÓnica vuelve a ese mundo olvidado y retraza aquellos dÍas oscuros, los Últimos de su madreuna cientÍfica marina quien habÍa estado a punto de descubrir y comprender la aplicaciÓn terapÉutica de una rara y venenosa criatura del mar. Ahora, su trabajo de investigaciÓn cientÍfica se encuentra comprometido por una clÍnica secreta que afirma poseer el poder de restaurar la consciencia a los comatosos.
Lo que descubre MÓnica destruirÁ la delicada tregua entre su familia y el pasado y obligarÁ a que todos desafÍen sus nociones mÁs profundas sobre lo que significa estar vivo. EtÉreo, pensante y clÁsico, La heredera del mar es una parÁbola impresionante sobre el paraÍso perdido que luego se vuelve a hallar.
Praise For La Heredera del Mar…
"Richly conceived and lyrically written, a fine, magical novel."
---James Hall, bestselling author of Forests of the Night--James Hall, bestselling author of Forests of the Night--James Hall, bestselling author of Forests of the Night

"Sandra Rodriguez Barron's exuberant prose yields an immensely entertaining reading experience"
---Isabel Allende, bestselling author of Zorro and Daughter of Fortune

"A stunning literary achievement, a tense, propulsive, hauntingly beautiful tale of the first order."
---John Dufresne, author of Johnny Too Bad

"Secrets and lies drive the intricate plot of this first novel, which is both a gripping mystery and an intimate drama of love and betrayal."
-Booklist

"[B]eautiful and haunting. Like her heroine, first novelist Barron has a Salvadoran mother and knows the country of which she writes. "
-Library Journal