Money to Burn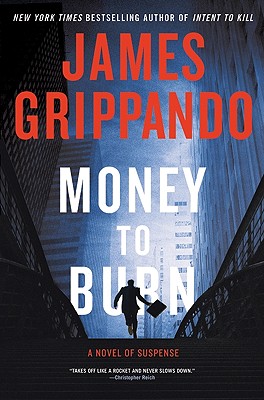 Money to Burn
A Novel of Suspense
Harper, Hardcover, 9780061556302, 368pp.
Publication Date: March 1, 2010
* Individual store prices may vary.
Buy at Local Store
Enter your zip code below to purchase from an indie close to you.
or
Not Currently Available for Direct Purchase
Description
In this timely stand-alone thriller ripped from the headlines, New York Times bestselling author James Grippando, whom the Wall Street Journal calls "a writer to watch," explores a world in which the destruction of financial institutions and the people who run them can occur in a matter of hours—perhaps even minutes.
At thirty-one, Michael Cantella is a rising star at Wall Street's premier investment bank, Saxton Silvers. Everything is going according to plan until Ivy Layton, the love of his life, vanishes on their honeymoon in the Bahamas.
Fast-forward four years. It's the eve of his thirty-fifth birthday, and Michael is still on track: successful career, beautiful new wife, piles of money. Reveling in his good fortune, Michael logs in to his computer, enters his password, and pulls up his biggest investment account: Zero balance. He tries another, and another. All of them zero. Someone has wiped him out. His only clue is a new e-mail message: Just as planned. xo xo.
With these three words Michael's life as he knows it is liquidated, along with his investment portfolio. Saxton Silvers is suddenly on the brink of bankruptcy, and he's the leading suspect in its ruin. Michael is left alone, framed, and facing divorce, with undercover FBI agents afoot, spyware on his computer, and mysterious e-mails from a "JBU." Embroiled in corporate espionage, he's desperate to clear his name and realizes that several signs point to his first wife, Ivy, as a key player. But what if Ivy has come back from the dead, only to visit on Michael a fate worse than death?
With echoes of The Firm, James Grippando's newest thriller takes readers to the inner circle of Wall Street, illustrating the very real dangers of what Warren Buffett called "financial weapons of mass destruction."
Praise For Money to Burn…
"Grippando is a skilled writer, and he works enough variations on the familiar theme to keep us guessing. . . . Recommend this one to fans of Joseph Finder's PARANOIA, COMPANY MAN, or POWER PLAY."
-Booklist

"MONEY TO BURN will get you so excited and worked up, you just may go out and steal a few million."
-Brad Meltzer, author of THE BOOK OF FATE and THE TENTH JUSTICE

"A sleek, sophisticated thrill machine. . . . I thoroughly enjoyed this blood-soaked tale of murder and intrigue set among Wall Street's most powerful and unscrupulous players. Highly recommended."
-Christopher Reich, author of RULES OF VENGEANCE and NUMBERED ACCOUNT

"Scandals involving subprime lending, short selling, and Ponzi schemes provide a timely backdrop. . . . Grippando keeps the reader guessing. . . . The dramatic tension remains high with a sadistic hired killer, high-stakes wheeler-dealers, and plenty of cinematic escapes."
-Publishers Weekly

"Ranking among his best, Grippando's latest thriller will not disappoint his loyal readers. . . . The twists and turns are surprising and plentiful . . . and there will be plenty of readers staying up late to finish this in one sitting."
-Library Journal

"[A] gripping thriller."
-National Examiner

"James Grippando skillfully uses the financial meltdown, along with Ponzi schemes and identity theft, in an exciting and timely thriller. . . . This is a thriller through and through."
-South Florida Sun Sentinel

"MONEY TO BURN is one of those all-too-rare novels you won't be able to stop reading once you start. It's a perfectly mixed cocktail of dry wit, sophisticated voice, believable characters, non-stop suspense, and plenty of vicarious pleasure."
-Joseph Finder, author of Vanished and Paranoia

"Grippando's latest thriller couldn't be more timely. . . . All the elements you expect from a Grippando novel are here, including interesting characters, a plot filled with nonstop action and suspense, and continual surprises. A splendid read."
-Romantic Times

"Reader Warning Alert: if you plan to read James Grippando's white-hot thriller Money to Burn, push all your scheduled activities back for a few days. It's impossible to put down. . . . His best yet. . . . Money to Burn is a real-time, heart-racing gamble."
-Madison County Herald