Read All about It!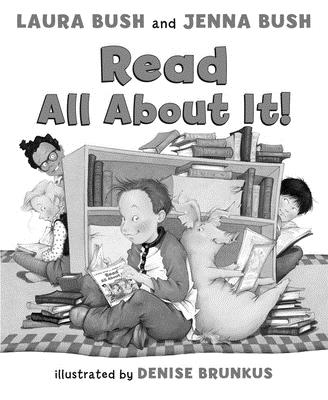 Read All about It!
HarperCollins Publishers, Hardcover, 9780061560750, 32pp.
Publication Date: April 22, 2008
* Individual store prices may vary.
Buy Now
or
Shop Local
Enter your zip code below to purchase from an indie close to you.
Description
Tyrone rules the school
He's king of the monkey bars, a math machine, and a science whiz.
The only thing he doesn't like about school is reading. Books are so boring But when strange visitors start dropping by the classroom for story hour, Tyrone discovers there's more to books than just words on pages.
Tyrone and his friends are swept up in a mysterious adventure that lands them in a most unexpected place. Mrs. Laura Bush and her daughter Jenna create a classroom adventure that will leave readers racing to the shelves
A portion of proceeds to benefit Teach for America and The New Teacher Project.
About the Author
For decades, Laura Bush has championed key issues in the fields of education, health care, human rights, and the preservation of our nation s heritage. A hiking and outdoors enthusiast, Mrs. Bush encourages Americans to spend time in and care for our national parks.
The author of the bestselling memoir Spoken from the Heart, Mrs. Bush also founded both the Texas Book Festival and the National Book Festival in Washington, DC. Today, as the chair of the Women s Initiative at the George W. Bush Institute, Mrs. Bush continues her work on global health-care innovations, empowering women in emerging democracies, education reform, and supporting the men and women who have served in America s military.
Mrs. Bush holds a degree in education and a master s degree in library science. She taught in public schools in Dallas, Houston, and Austin and worked as a public school librarian.
Jenna Bush shares her mother's love of reading and teaching. Jenna taught elementary school in Washington, D.C. after graduating from the University of Texas at Austin in 2004 with a degree in English. She has also written articles for "CosmoGIRL!" and the "New York Times". Her first book, #1 "New York Times" bestselling Ana's Story: "A Journey of Hope", is based on her work with UNICEF.
Jenna Bush comparte el amor que su madre siente por la lectura y la enseNanza. Jenna enseNO en escuelas primarias en Wash-ington, D.C. despuEs de graduarse en la Universidad de Texas, en Austin, en el 2004, con una licenciatura en Letras Inglesas. Ha escrito artIculos para "CosmoGIRL!" y el "New York Times". Su primer libro, # 1 en la lista de libros mAs vendidos del "New York Times", "La Historia de Ana: Un camino lleno de esperanza", estA basado en su trabajo con UNICEF.
Denise Brunkus has illustrated more than sixty books for children, most notably the bestselling Junie B. Jones series by Barbara Park, Read All About It! by Laura Bush and Jenna Bush, and Charlie Hits It Big by Deborah Blumenthal. Denise is basically a neat person, so adding smudges and smears to the art for Sloppy Joe was an unexpected thrill. She lives in Massachusetts.
Denise Brunkus es una conocida ilustradora de libros para ninos con mas de sesenta libros publicados, entre los que se destacan la exitosa serie Junie B. Jones, Charlie Hits It Big, Chocolatina y Groundhog Gets a Say. Vive en Massachusetts con su esposo y su gran coleccion de libros.
Praise For Read All about It!…
This purposeful tale gets a real kick from the art. Brunkus, the illustrator of the Junie B. Jones books, offers highly colored pictures that find fun in classroom situations, both real and fantastical. Even nonreaders may be prompted to give books a try.
-ALA Booklist

The nation's First Librarian and her daughter team up to present a well-meaning salute to the pleasures of reading.
-Kirkus Reviews