Furious Love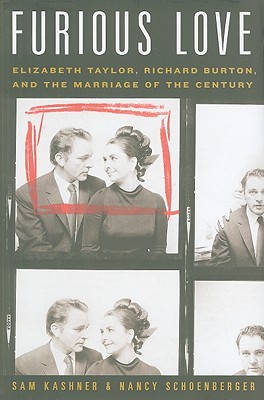 Furious Love
Elizabeth Taylor, Richard Burton, and the Marriage of the Century
HarperTorch, Hardcover, 9780061562846, 500pp.
Publication Date: June 15, 2010
* Individual store prices may vary.
Buy at Local Store
Enter your zip code below to purchase from an indie close to you.
or
Not Currently Available for Direct Purchase
Description
The definitive story of Hollywood's most famous couple
He was a tough-guy Welshman softened by the affections of a breathtakingly beautiful woman; she was a modern-day Cleopatra madly in love with her own Mark Antony. For nearly a quarter of a century, Elizabeth Taylor and Richard Burton were Hollywood royalty, and their fiery romance—often called "the marriage of the century"—was the most notorious, publicized, and celebrated love affair of its day.
For the first time, Vanity Fair contributing editor Sam Kashner and acclaimed biographer Nancy Schoenberger tell the complete story of this larger-than-life couple, showing how their romance and two marriages commanded the attention of the world. Also for the first time, in exclusive access given to the authors, Elizabeth Taylor herself gives never-revealed details and firsthand accounts of her life with Burton.
Drawing upon brand-new information and interviews—and on Burton's private, passionate, and heartbreaking letters to Taylor—Furious Love sheds new light on the movies, the sex, the scandal, the fame, the brawls, the booze, the bitter separations, and, of course, the fabled jewels. It offers an intimate glimpse into Elizabeth and Richard's privileged world and their elite circle of friends, among them Princess Grace, Montgomery Clift, the Duke and Duchess of Windsor, Peter O'Toole, Michael Caine, Marlon Brando, Rex Harrison, Mike Nichols, Laurence Olivier, Robert Kennedy, Tennessee Williams, NoËl Coward, John Huston, Ava Gardner, the Rothschilds, Maria Callas, and Aristotle Onassis. It provides an entertaining, eye-opening look at their films, their wildly lucrative reign in Europe and in Hollywood—and the price they paid for their extravagant lives.
Shocking and unsparing in its honesty, Furious Love explores the very public marriage of "Liz and Dick" as well as the private struggles of Elizabeth and Richard, including Le Scandale, their affair on the set of the notorious epic Cleopatra that earned them condemnation from the Vatican; Burton's hardscrabble youth in Wales; the crippling alcoholism that nearly destroyed his career and contributed to his early death; the medical issues that plagued both him and Elizabeth; and the failed aspirations and shame that haunted him throughout their relationship. As Kashner and Schoenberger illuminate the events and choices that shaped this illustrious couple's story, they demonstrate how the legendary pair presaged America's changing attitudes toward sex, marriage, morality, and celebrity. Yet ultimately, as the authors show, Elizabeth and Richard shared something priceless beyond the drama: enduring love.
Addictive and entertaining, Furious Love is more than a celebrity biography; it's an honest yet sympathetic portrait of a man, a woman, and a passion that shocked and mesmerized the world.
About the Author
Sam Kashner, a contributing editor at Vanity Fair, is the author of three books of nonfiction and one novel, Sinatraland.

Among other honors, Nancy Schoenberger has been awarded an NEA and two state artist grants. Her volume, "Girl on a White Porch", won the 1987 Devins Award for Poetry. She teaches creative and nonfiction writing at William & Mary in Virginia and edits the transatlantic poetry journal Verse. With her husband Sam Kashner, she coauthored "A Talent for Genius, the Life and Times of Oscar Levant" (which inspired an episode of A & E's "Biography") and "Hollywood Kryptonite, The Bulldog, The Lady, and the Death of Superman".
Praise For Furious Love…
"Long before there was Brangelina, the high-wire romance between Elizabeth Taylor and Richard Burton rocked the world. In Furious Love, Sam Kashner and Nancy Schoenberger provide dramatic historical insights into Hollywood's stormiest, up-and-down relationship. Every page is riveting. A hit book for sure!"
-Douglas Brinkley

"Exciting and well-written, fast-paced yet containing a wealth of information, Furious Love is a fine read."
-Patricia Bosworth, author of Marlon Brando: A Biography

"[An] entertaining, blow-by-blow account of the life and times of an epic Hollywood couple... There is no shortage of saucy anecdotes in Furious Love..."
-Wall Street Journal

"[An] unfailingly respectful and journalistically honest chronicle. . . . Where this book breaks ground is in its ability to humanize these colossal celebs. . . . Reads like a Shakespearean drama."
-USA Today

"I fell for Furious Love, hook, line and sinker... Ultimately Furious Love is utterly persuasive on the ineffable force of 'the most notorious, publicized, celebrated, and vilified love affair of its day,' offering a powerful portrait of the ecstasies and travails of overreaching passion and crippled psyches..."
-Boston Globe

"[A] five-alarm blaze of a biography that enthralls like an Olympian epic. . . . The authors make an excellent case that each deepened the other's craft. . . . A vivid portrait of this...two-career marriage on steroids."
-Philadelphia Inquirer

"An indulgent, plenty-of-fun book...the authors make shrewd observations...juicy…a good beach book."
-New York Times Book Review

"[Furious Love] is fascinating, heartbreaking, and romantic."
-Kate Walsh