Read Me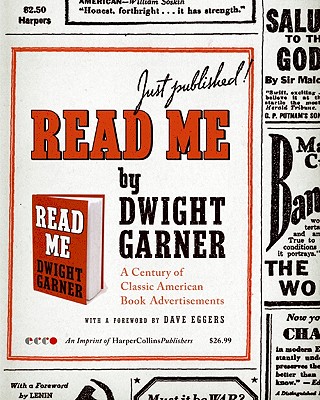 Read Me
A Century of Classic American Book Advertisements
Ecco Press, Hardcover, 9780061572197, 272pp.
Publication Date: November 2009
* Individual store prices may vary.
Not Currently Available for Direct Purchase
or
Shop Local
Enter your zip code below to purchase from an indie close to you.
Description
This witty and heavily illustrated volume features more than 300 vintage book advertisements—startling and strange, beautiful and funny—that together reveal a kind of secret history of American literature over the last century.
New York Times book critic Dwight Garner brings together original ads for some of the most acclaimed and best-selling books of the twentieth century, including The Great Gatsby, Ulysses, On the Road, Invisible Man, Lolita, Silent Spring, The Joy of Sex, Fear and Loathing on the Campaign Trail '72, White Noise, and dozens of other classics. These ads show us famous books when they were simply new volumes jostling for attention on bookstore shelves, not yet icons of our literary culture. And the ads capture many beloved authors—Toni Morrison, Cormac McCarthy, Susan Sontag, and Kurt Vonnegut among a great many others—at moments before their careers were assured, before their personas had hardened into those of "famous writers."
In his introduction, Garner explains the changing styles of book advertising; explores the cross-pollination between literature and the world of advertising, in which many writers—including Don DeLillo, Salman Rushdie, and James Patterson—worked before publishing their first books; and makes a convincing case that these vintage ads are important and lasting literary documents.
Read Me is a fascinating and unusual romp through literary history, and an ideal gift for any reader.
About the Author
Dwight Garner is a book critic for the "New York Times". A former senior editor of the "New York Times Book Review", he was the founding books editor of Salon.com. His writing has appeared in "Harper's Magazine", "The Oxford American", "The Nation", "Slate", "Vanity Fair", and elsewhere, and he is at work on a biography of James Agee. Garner lives in Garrison, New York, with his wife and two children.

Dave Eggers is the bestselling author of seven books, including "A Hologram for the King", a finalist for the National Book Award; "Zeitoun", winner of the American Book Award and Dayton Literary Peace Prize; and" What Is the What", which was a finalist for the National Book Critics" "Circle Award and won France s "Prix Medici". That book, about Valentino" "Achak Deng, a survivor of the civil war in Sudan, gave birth to the Valentino Achak Deng Foundation, which operates a secondary school in South Sudan run by Mr. Deng. Eggers is the founder and editor of McSweeney s, an independent publishing house based in San Francisco that produces a quarterly journal, a monthly magazine, "The Believer: ", a" "quarterly DVD of short films and documentaries, " Wholphin", and an" "oral history series, Voice of Witness. In 2002, with Ninive Calegari he cofounded 826 Valencia, a nonprofit writing and tutoring center for youth in the Mission District of San Francisco. Local communities have since opened sister 826 centers in Chicago, Los Angeles, New York, Ann Arbor, Seattle, Boston, and Washington, D.C. Eggers is also the founder of ScholarMatch, a program that matches donors with students needing funds for college tuition. A native of Chicago, Eggers now lives in Northern California with his wife and two children.""
Praise For Read Me…
"Stare at this book for hours, linger on a single image, and by the end of the weekend, you've made a grand excursion through the literary history of the 20th century."
-Chicago Tribune (Printer's Row Blog)

"These small but punchy ads bring back a time when new books were an essential part of the cultural conversation."
-Newsday