The Hunger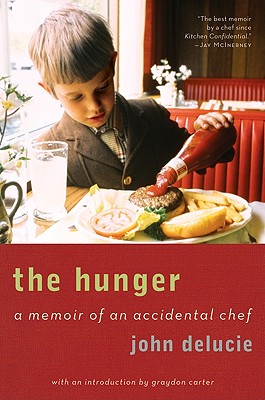 The Hunger
A Memoir of an Accidental Chef
Ecco Press, Paperback, 9780061579295, 233pp.
Publication Date: May 2010
* Individual store prices may vary.
Buy Now
or
Shop Local
Enter your zip code below to purchase from an indie close to you.
Description
An inspiring, heartwarming memoir from the unlikely chef of The Waverly Inn
The Hunger is an insider's take on the crazy life that is the restaurant business, as well as an underdog's tale of survival. Dissatisfied with his corporate career, John DeLucie followed his passion for food to a single cooking class at the New School (where he was named Most Likely to Succeed). He launched his first food gig at SoHo's famed Dean & DeLuca, then cooked at several New York area restaurants.
For fifteen years, DeLucie worked his way through major challenges, while accepting both successes and failures, until finally opening his restaurant The Waverly Inn the Greenwich Village sensation. He now shares secrets about the behind-the-scenes details from the tiny kitchen, the front of the house, and outside the restaurant, where the paparazzi gather. Also included are the stories behind some of DeLucie's signature recipes.
The Hunger is a story about food and desire and appetite an intimate window onto a chaotic world.
About the Author
John DeLucie is the Executive Chef/Partner of The Waverly Inn, which he opened to great critical acclaim in 2007 in Manhattan's Greenwich Village. DeLucie has been featured in New York magazine, Town & Country, the New York Times, and on television on the The Martha Stewart Show and CBS's The Early Show Saturday Edition. He lives in New York.

Graydon Carter has been the editor-in-chief of "Vanity Fair" since 1992. Previously, he was the editor of "The New York Observer" and the cofounder of "Spy". He is the producer of the acclaimed film "The Kid Stays in the Picture" and the executive producer of the Emmy- and Peabody Award-winning documentary "9/11". He lives in New York.
Praise For The Hunger…
John DeLucie has given me so much pleasure at The Waverly Inn, and now he has written this delightful book, as well! I recommend it to anyone interested in good food—and good stories."
-Salman Rushdie

"Hot grease, sharp knives, infidelity, and white truffles. . . . The Hunger has all the right ingredients. John DeLucie has lived the life and now he tells the tale. The Hunger is the best memoir by a chef since Kitchen Confidential."
-Jay McInerney

"DeLucie provides an excellent balance of personal details and authentic backstage culinary tales. . . . DeLucie's is a satisfying triumph of hard work and stick-to-it-ness."
-Publishers Weekly

"It's the rare behind-the-scenes glimpses into the Waverly's clubby quarters that make this book different from other chef memoirs and their typically debauched tales."
-New York Post

"This dishy read is an insider's look at what it takes to stay on top of the high-pressure, high-profile culinary world and what really goes on in the kitchen."
-Bon Appétit

"THE HUNGER entertainingly describes one of those wonderfully unlikely bizarro career arcs that can only happen in the restaurant business...A terrific first person tour of the best and worst of the back-of-the-house New York restaurant world with an all-too rare happy ending."
-Anthony Bourdain

"In a bowl, stir gently, one part Hard Work, two cups True Grit, and a dash of Restaurant Glamour, and you get the perfect recipe for Chef John Delucie's everyday life... I couldn't put it down."
-Bobby Flay