You Are Here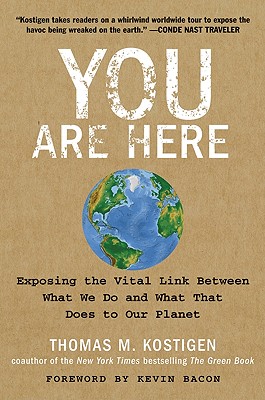 You Are Here
Exposing the Vital Link Between What We Do and What That Does to Our Planet
HarperOne, Paperback, 9780061580376, 256pp.
Publication Date: January 19, 2010
* Individual store prices may vary.
Buy at Local Store
Enter your zip code below to purchase from an indie close to you.
or
Not Currently Available for Direct Purchase
Description
In this groundbreaking book, the New York Times bestselling coauthor of The Green Book Thomas M. Kostigen reveals the vital missing link in today's environmental crisis: how we as individuals are connected to the most tenuous geography on the planet. Despite the recent prominence of "green" issues in the news, the direct relationship between our actions and the earth is too often ignored. But the seemingly insignificant things we do every day have the power to literally alter the landscape in the ongoing battle to resuscitate the planet.
Praise For You Are Here…
"Thomas Kostigen is expert at taking the complexities of climate change - distilling them, then relating the answers and solutions to our everyday lives. A common sense approach - to complex issues."
-Duane Dahl, Founder of Earthlab.com

"Thomas Kostigen is an intrepid activist. YOU ARE HERE takes us to the hidden frontlines of the war over natural resources and reveals how each of us can improve our planet without leaving home. A passionate and heartfelt call to care."
-Bruce Feiler, Author of WALKING THE BIBLE and ABRAHAM

"...Kostigen shows us that, in a world of limited resources, there is no such thing as an insignificant choice. Pushing us from awareness to action, this is an unforgettable story about how, through our choices, we are all tied to one another."
-Alexandra Cousteau, Environmental Advocate and National Geographic Emerging Explorer

"An intriguing and insightful account that deserves to be read by everyone affected by these issues which is....everyone!"
-Mark Plotkin, founder of the Amazon Conservation Team and Time Magazine Hero for the Planet

"Tom's quest for global perspective sees him scale every vantage point short of the moon and the results are jaw-dropping. Borneo, Alaska, Israel, China, India and the Amazon ... YOU ARE HERE has it all. A book of global significance."
-Bradley Trevor Greive, New York Times Bestselling Author of THE BLUE DAY BOOK and THE MEANING OF LIFE

"Can we change? Can we save the earth we love? You bet! Thomas Kostigen pulls no punches in this gut-wrenching book. Take it personally!"
-Maude Barlow, National Chairperson of The Council of Canadians and co-founder of the Blue Planet Project

"The highly readable book is filled with surprising facts and statistics, as well as many doable ways to reduce our dirty human footprint."
-Rocky Mountain News