This Full House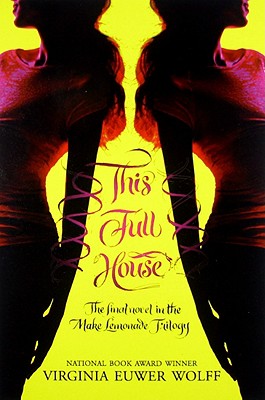 This Full House
Harper Teen, Hardcover, 9780061583049, 476pp.
Publication Date: January 27, 2009
* Individual store prices may vary.
Buy Now
or
Shop Local
Enter your zip code below to purchase from an indie close to you.
Description
Each discovery disturbs the arrangements of the known world, and it is our job to stay alert to all possibilities.
LaVaughn believes she is keeping alert to all possibilities. She has made it through the projects, she's gotten over heartbreak, she's grown up, and now she's been admitted to the Women in Science program that might finally be her ticket to COLLEGE. But the discoveries she makes during her senior year in high school--two girls pregnant, with very few options--disturb everything in her known world. And in an effort to bring together people who should love each other, she jeopardizes the one prize she has sought her whole life long.
When do you know whether you're doing the right thing? What happens when you can't find a way to make lemonade out of lemons? Virginia Euwer Wolff takes on the biggest questions--about life and love, certainly, but also about girls and women, sacrifice and compassion--and has something quite rev-elatory to say about them in this full house.
About the Author
Virginia Euwer Wolff is an accomplished violinist and former elementary school and high school English teacher. Her first book for young readers, "Probably Still Nick Swansen", was published in 1988 and won both the International Reading Association Award and the PEN-West Book Award. Since then she has written several more critically acclaimed young adult novels, earning more honors, including the National Book Award for "True Believer", as well as the Golden Kite Award for Fiction and the Jane Addams Book Award for Children s Books that Build Peace. Her books include "Make Lemonade", "The Mozart Season", "This Full House" and "Bat 6". She lives in Oregon.
Praise For This Full House…
PRAISE FOR THIS FULL HOUSE:"An audacious and rewarding finale in the unparalleled MAKE LEMONADE sequence, there's room in THIS FULL HOUSE for any reader to find a home."—New York Times bestselling author Gregory Maguire "Once again, Virginia Euwer Wolff manages to write with such intensity, leading to such grace. This trilogy is a masterpiece, and this book is full of hard-earned beauty. Consider me amazed."—New York Times bestselling author David Levithan"LaVaughn's desire to make a difference in the lives of her friends is the strong voice that carries this story . . . an exploration on how easy it is to love yet how difficult it can be to forgive. A fitting and optimistic end to the trilogy."—VOYA"A memorable tale of family, friendship, conscience and tenacity."—BookPage "Wolff's lyrical free verse once again breathes life into her unforgettable heroine."—The Horn Book"LaVaughn's ferocious determination and intelligence will wholly captivate readers, as will her beautifully articulated, elemental questions about integrity, faith, and how best to build a life."—ALA Booklist"I couldn't wait to find out what happened, and then wanted to go right on reading about these thoughtful, quirky, splendid characters. LaVaughn —so wise, naïve, and purely honest—is a treasure."—Joanna Rudge Long, children's literature scholar emeritus"The long-awaited conclusion to the trilogy delivers on its promise."
-Kirkus Reviews (starred review)

"An inspiring, relatable tale of perseverance, forgiveness, and family."—
-School Library Journal