American Eden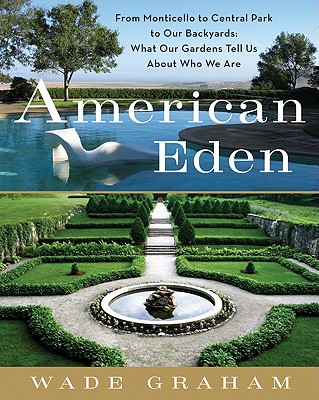 American Eden
From Monticello to Central Park to Our Backyards: What Our Gardens Tell Us About Who We Are
Harper, Hardcover, 9780061583421, 480pp.
Publication Date: April 1, 2011
* Individual store prices may vary.
Buy at Local Store
Enter your zip code below to purchase from an indie close to you.
or
Not Currently Available for Direct Purchase
Description
The story of our nation and ourselves—as told through our country's most significant gardens and their creators
From Frederick Law Olmsted to Richard Neutra, Michelle Obama to our neighbors, Americans throughout history have revealed something of themselves—their personalities, desires, and beliefs—in the gardens they create. Rooted in the time and place of their making, as much as in the minds and identities of their makers, gardens mirror the struggles and energies of a changing society. Melding biography, history, and cultural commentary in a one-of-a-kind narrative, American Eden presents a dynamic, sweeping look at this country's landscapes and the visionaries behind them.
Monticello's gardens helped Jefferson reconcile his conflicted feelings about slavery—and take his mind off his increasing debt. Edith Wharton's gardens made her feel more European and superior to her wealthy but insufficiently sophisticated countrymen. Martha Stewart's how-to instructions helped bring Americans back into their gardens, while at the same time stoking and exploiting our anxieties about social class. Isamu Noguchi's and Robert Smithson's experiments reinvigorated the age-old exchange between art and the garden.
American Eden offers an inclusive definition of the garden, considering intentional landscapes that range from domestic kitchen gardens to city parks and national parks, suburban backyards and golf courses, public plazas and Manhattan's High Line park, reclaimed from freight train tracks. And it exposes the overlap between garden-making and painting, literature, and especially architecture—the garden's inseparable sibling—to reveal the deep interconnections between the arts and their most inspired practitioners.
Moving deftly through time and place across America's diverse landscapes—from Revolutionary-era Virginia to turn-of-the-century Chicago to 1960s suburban California—and featuring a diverse cast of landscape-makers—whether artists, architects, or housewives, amateurs or professionals, robber barons, politicians, reformers, or dreamers—Wade Graham vividly unfolds the larger cultural history through more personal dramas.
Beautifully illustrated with color and black-and-white images, American Eden is at once a different kind of garden book and a different kind of American history, one that offers a compelling, untold story—a saga that mirrors and illuminates our nation's invention, and constant reinvention, of itself.
About the Author
Wade Graham is a Los Angeles–based garden designer, historian, and writer whose work on the environment, landscape, urbanism, and the arts has appeared in The New Yorker, Harper's Magazine, the Los Angeles Times, Outside, and other publications. He received a BA in comparative literature from Columbia University and an MA and a PhD in U.S. history from the University of California at Los Angeles. He is an adjunct professor of public policy at Pepperdine University.
Praise For American Eden…
"Mr. Graham recounts his tale with considerable verve and a vast erudition in the history of gardening and the arts generally…. Among much else, Mr. Graham shows us that the history of how our nation grew can be found in what it has grown."
-John Steele Gordon, Wall Street Journal

"We are what we plant, L.A.-based writer Wade Graham posits in his history of gardens. When he isn't explaining the economic and cultural influences, he crafts fascinating profiles…. An engaging look at our own pieces of paradise."
-Ann Herold, Los Angeles Magazine

"A shrewd, comprehensive and often entertaining guide…. Sure to be a scholarly as well as popular resource for years to come…. And its illustrations and photos tour of some of the world's most ravishing gardens."
-Tricia Springstubb, Cleveland Plain Dealer

"The most comprehensive and readable history ever written about the men and women who created the environments in which we now live…. will change the way you look not only at gardens, but also at American history and the hybrid world-part nature, part design-in which we live."
-Charles Donelan, Santa Barbara Independent