Wisdom 2.0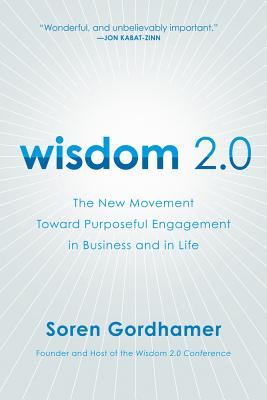 Wisdom 2.0
Ancient Secrets for the Creative and Constantly Connected
HarperOne, Paperback, 9780061651519, 241pp.
Publication Date: February 5, 2013
* Individual store prices may vary.
Buy at Local Store
Enter your zip code below to purchase from an indie close to you.
or
Buy Here
Description
Technology is not the answer. It is also not the problem. What matters instead? Awareness, Engagement, and Wisdom.
Wisdom 2.0 addresses the challenge of our age: to not only live connected to one another through technology, but to do so in ways that are beneficial, effective, and useful.
Praise For Wisdom 2.0…
This is good stuff for the busy modern life: practical, simple and wise.
-Jack Kornfield, author of A Path with Heart

This may well be the first book of its kind. A book of rapid development and the rewriting of long conditioned programs. This is liberation by wrapped attention to the mind-screen and the comings and goines there-on."
-Stephen Levine, author of Turning Toward the Mystery

This is the instruction manual that should come with our iPhones and Blackberries... teaching us how to put them down.
-Chris Sacca, Former Google Head of Special Initiatives

Wisdom 2.0 is a pragmatic, creative, and fun guide to applying ancient insights to our everyday technology-rich lives. This book reveals how to utilize ordinary circumstance for real transformation.
-Sharon Salzberg, author of Lovingkindness: The Revolutionary Art of HappinessSharon Salzberg, author of Lovingkindness: The Revolutionary Art of HappinessSharon Salzberg, author of Lovingkindness: The Revolutionary Art of HappinessSharon Salzberg, a

Utterly buried in the world of Twitter, blogging, email, online social networks, cell phones, text messages? Wisdom 2.0 offer readers a ray of light, a breath of fresh air and tranquility for the constantly connected and eternally wired.
-Mark Grimes, founder of Ned.com and Better World Media Network

Soren Gordhamer's brave and smart book on how to stay connected (ie,mindful) while being electronically connected is a must for thosewhose lives tend to be on the virtual side. He's advocating an inward step to a newrelationship with technology that is creative and liberating.
-Joan Halifax, abbot, Upaya Zen Center

Author, Web entrepreneur and stress-reduction consultant Gordhamer 's presentation is succinct and cannily geared toward those proud to be plugged-in, but seeking to restore balance to their lives.
-Publishers Weekly

"Soren is a connector extraordinaire. In this book, he connects wisdom to business, thereby exploring the next wave of engagement, creativity, and mindfulness in business and life. Read this book, and Soren may connect you to your inner wisdom."
-Chade-Meng Tan, New York Times Bestselling author of Search Inside Yourself

"This is a wonderful and important read for everyone in business who wants to acquire deeper insight and practice living a balanced life. Soren brings a wealth of experience to the reader in an accessible and compelling way."
-Stuart Crabb, Head of Learning & Development, Facebook

"With the pace of our work and our lives increasing at lightning speed, we are not only losing our effectiveness, but ourselves. Wisdom 2.0 guides us gently back to our path--the one that prioritizes our well-being, and in turn, those few things that are truly important."
-Melissa Daimler, Head of Organizational Effectiveness & Learning, Twitter

"Our relationship to technology, and to life, is what we make of it. In a world where information constantly flows at us from every direction Soren has provided us with a wonderful guide that through observation and practice will help us stay connected to our intentions and our loved ones."
-Arturo Bejar, Director of Engineering, Facebook