Reckless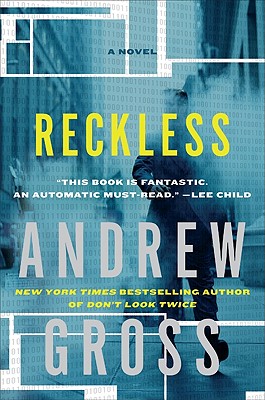 Reckless
William Morrow, Hardcover, 9780061655951, 416pp.
Publication Date: April 27, 2010
* Individual store prices may vary.
Buy at Local Store
Enter your zip code below to purchase from an indie close to you.
or
Not Currently Available for Direct Purchase
Description
Ty Hauck is shattered by the news. A close friend from his past, along with her husband and daughter, has been brutally murdered in her home by vicious intruders. Now he will risk everything he loves to avenge her death. . . .
A wealthy banker, seeing his world about to crumble around him, knows his family is in unfathomable danger. . . .
A U.S. government agent watches the sudden bank transfers of millions in cash and suspects that this is the first step in a plot to unleash a wave of global panic. . . .
Ty Hauck hunts the murderer of a friend—and steps into the crosshairs of a sinister conspiracy—in this most electrifying novel yet from New York Times bestselling thriller master Andrew Gross
Private security investigator Ty Hauck, with Naomi Blum, a tenacious agent from the U.S. Department of Treasury, unravels the evidence that joins these seemingly unrelated events—revealing a reckless scheme that stretches from New York to London to central Europe and gives new meaning to the phrase "too big to fail." What began with a tragedy that opened a door to Hauck's past—a door that he thought was long closed—ends with a frantic race to avert a disaster that could shake the very security of our country—and even the world.
Praise For Reckless…
"[An] all-too-believably unsettling plot.... Wonderful."
-Connecticut Post

"Andrew Gross has a hit with Reckless.... Reckless rips through conspiracy after conspiracy.... The action moves at break-neck speed.... Gross makes Hauck and Naomi equals, which adds to their chemistry and the exciting plot."
-Hartford Courant

"Former police detective Ty Hauck...displays bulldog tenacity.... Thriller fans...will enjoy the fast-flowing action."
-Publishers Weekly

"Gross's pace and plotting move nicely from shock to shock.... James Patterson fans...will find much to enjoy here."
-Booklist

"Reckless is a sexy-as-hell thriller and Andrew Gross's best."
-James Patterson

"The pacing and action rip forward at breakneck speed, the characters are complicated and compelling, and the dialogue snaps with intelligence and wit. Bold, brainy and chilling, you won't be able to put this book down."
-Linda Fairstein on Reckless

"I think this book is fantastic—it has all the obvious virtues plus that elusive X-factor that really made me resent the times I had to put it down. It's Andrew Gross's best yet."
-Lee Child

"A fast-paced, action-packed story with a ripped-from-the-headlines feel…. A quick, intense, pulse-pounding reading, an experience that fans of the Patterson-style thriller will find irresistible."
-Seattle Post-Intelligencer

"A pulsating thriller that turns on international conspiracies, financial sleight of hand and believable characters.... An energetic story complemented by mega-action. Gross is proving himself to be among the top thriller writers."
-San Luis Obispo Tribune

"Reckless is a gripping suspense novel deftly plotted.... An exhilarating pace that never once feels contrived…. An intricately plotted, top-notch thriller and with it Gross easily steps to the head of the class."
-New York Journal of Books