Passages in Caregiving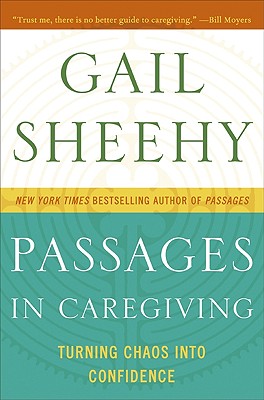 Passages in Caregiving
Turning Chaos Into Confidence
William Morrow & Company, Hardcover, 9780061661204, 416pp.
Publication Date: May 2010
* Individual store prices may vary.
Buy Now
or
Shop Local
Enter your zip code below to purchase from an indie close to you.
Description
"I didn't expect this."
No one really expects it, but at some time or another, just about everyone has beenor will beresponsible for giving care, for a sustained period, to someone close to them. Gail Sheehy, who has chronicled every major turning point for twentieth-century Americans, as well as reported on everything from politics to sexuality, knows firsthand the trials, fears, and rare joys of caregiving. In Passages in Caregiving, she takes you by the hand and shows you that you will get through this, and you will do the right things.
Sheehy identifies eight crucial stages of caregiving and offers insight for successfully navigating each one. With empathy and intelligence, backed by formidable research, and interspersed with poignant stories of her experience and that of other successful caregivers, Passages in Caregiving addresses the needs of this enormous and growing group. It is sure to become the touchstone for this challenging yet deeply rewarding period in your life journey.
Providing invaluable advice and guidance, this book examines the arc of caregiving from the first signs of trouble. Sheehy answers the most important questions to consider: How serious is it? What do I ask the doctor? How will this be paid for? What are our options? At the same time she offers new tips and strategies that you won't find anywhere else.
Most important, however, Passages in Caregiving points out that you don't have to be alone in this process. Included are countless resources and names of advocacy groups that are there to help even the most complicated of situations, many of which are woefully underutilized. With Gail Sheehy as your guide, Passages in Caregiving is sure to help turn a stressful, life-altering situation into a journey that can be safely navigated and from which everyone can benefit.
About the Author
Gail Sheehy is the author of seventeen books, including the classic New York Times bestseller Passages, named one of the ten most influential books of our times by the Library of Congress. A multiple-award-winning literary journalist, she was one of the original contributors to New York magazine and has been a contributing editor to Vanity Fair since 1984. A popular lecturer, Sheehy was named AARP's Ambassador of Caregiving in 2009.
Praise For Passages in Caregiving…
"As a longtime champion for family caregivers, I am delighted that Gail Sheehy has brought this passage vividly to life from her own long experience and that of many others'. This is one of those rare books that can drastically lighten even the heaviest of loads."
-Rosalynn Carter, president of the Rosalynn Carter Institute for Caregiving

"I expect Passages in Caregiving to be the manual for caregivers for generations to come. Gail Sheehy has addressed every possible situation in an engaging, timely, and easy-to-follow manner."
-Gary Small, MD, UCLA Professor of Psychiatry and Aging

"In this insightful book that combines a moving firsthand account of her own journey and valuable strategies for navigating the labyrinth of care-giving, Gail Sheehy takes the mystery out of what can be a baffling, heart-rending experience. A must-read for anyone who gets the Call."
-Hugh Delehanty, Editor in Chief of AARP Publications

"No longer will you have to blindly navigate the murky corridors of caregiving. You have an easy-to-read roadmap right here."
-Judith Orloff, MD

"More and more people are left to deal with late stage healthcare on their own. Gail Sheehy's masterfully researched and written book comes at a perfect time, when people need it most."
-Robert N. Butler, MD, Founding Director of National Institute on Aging

"Trust me: there is no better guide to caregiving."
-Bill Moyers