Government Pirates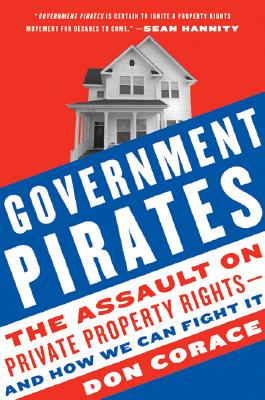 Government Pirates
The Assault on Private Property Rights--And How We Can Fight It
Harper Paperbacks, Paperback, 9780061661433, 271pp.
Publication Date: July 1, 2008
* Individual store prices may vary.
Buy at Local Store
Enter your zip code below to purchase from an indie close to you.
or
Buy Here
Description
After years of hard work and saving, you finally own a home. But don't get too comfortable. If government officials decide they want your property, they can take it--for a wide variety of shady reasons that go far beyond the usual definition of "public purposes." The courts have allowed these injustices to persist. And there is nothing you can do about it--not yet.
Real estate developer and property rights expert Don Corace offers the first in-depth look at eminent domain abuse and other government regulations that are strangling the rights of property owners across America. Government Pirates is filled with shocking stories of corrupt politicians, activist judges, entrenched bureaucrats, greedy developers, NIMBY (Not-in-My-Backyard) activists, and environmental extremists who conspire to seize property and extort money and land in return for permits. Corace provides the hard facts about individual rights and offers invaluable advice for those whose property may be in danger. It is the one book that every property owner in America has to read.
Praise For Government Pirates…
"Government Pirates is certain to ignite a property rights movement for decades to come."
-Sean Hannity

"Every day on my nationally syndicated radio show I do a segment on the 'government outrage of the day.' Don Corace has just given me enough material to last me until retirement."
-Neal Boortz

"The book, which is designed and organized to maximize readings on the outrage-o-meter, comes chock-a-block with bullet-pointed anecdotes of redevelopers gone wild."
-New York Post

"[Corace] covers each area of concern—eminent domain, zoning, wetlands preservation, the Endangered Species Act—first defining the issue and then describing illustrative cases. Corace knows his subject, and when the reader is done, he will know it, too....excellent."
-Jigs Gardner, Property Rights Foundation of America

"Government Pirates provides especially good insights on how government and outside special interests collaborate to take away Americans' property rights…not only a must-read, but a vital reference book for your library."
-David A. Ridenour, National Center for Public Policy Research

"A very interesting and enlightening book…exposes the methods and means by which the government can use its eminent domain or regulatory powers to diminish or take our private property rights…His perspective and stories come as a developer 'In the trenches' not just one of us eggheads in the ivory tower."
-Donald Kochan, Townhall.com

"Corace provides the hard facts about individual rights and offers invaluable advice for those whose property may be in danger…The first in-depth look at eminent domain abuse and other examples of Big Government red tape that are choking off the rights of citizens who own property."
-Conservative Book Club