Everything Beautiful Began After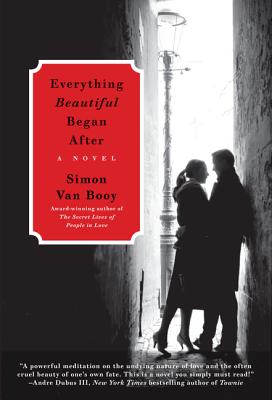 Everything Beautiful Began After
Harper Perennial, Paperback, 9780061661488, 404pp.
Publication Date: July 5, 2011
* Individual store prices may vary.
Buy at Local Store
Enter your zip code below to purchase from an indie close to you.
or
Buy Here
Description
"Apowerful meditation on the undying nature of love and the often cruel beauty ofone's own fate. This is a novel you simply must read " --Andre Dubus III,
New York Times
bestselling author of
Townie
FromSimon Van Booy, the award-winning author of LoveBegins in Winter and The Secret Lives of People in Love, comesa debut novel of longing and discovery amidst the ruins of Athens. Withechoes of Nicole Krauss's The History of Love and CharlesBaxter's The Feast of Love, Van Booy'sresonant tale of threeisolated, disaffected adults discovering one another in Greece is thecompelling product of an inquisitive, visionary talent. In the words of RobertOlen Butler, Pulitzer Prize-winning author of A Good Scent from a StrangeMountain, "Simon Van Booy knows a great deal about the complex longings of thehuman heart."
Praise For Everything Beautiful Began After…
"A swift and engaging story..."
-Wall Street Journal

"His prose is music, and his characters are warmhearted, gentle, bemused, philosophical beings….It's as if Shakespeare's Sonnet No. 30 has unfolded into a full-blown novel."
-Austin Ratner, The East Hampton Star

"Van Booy's writing rings with the proverbial pithiness of Oscar Wilde, the elegance of F. Scott Fitzgerald, the clarity of Graham Greene and the wit of Evelyn Waugh, conjuring a strong voice full of poetic, timeless grace of which much of the contemporary literary scene is starved."
-San Francisco Examiner

"Van Booy's writing seduces from the first page….He is a hugely gifted writer. More vitally, he has something to say."
-Portland Press Herald

"There is...an integrity to [Van Booy's] vision and a haunting element in his portrait of friendship and, ultimately, resolution."
-Daily Mail (London)

"[T]he exquisite prose and heartbreaking (but never hopeless) emotional honesty make it a worthy read."
-Daily Candy

"Vivid and meticulous...the floweriness of his prose is skillfully balanced by his short, precise sentences. Intriguing."
-Metro (London)

"Atmospheric and anchored in its place. A book that is timeless but not rootless. Everything Beautiful Began After is highly sophisticated and absolutely sincere."
-Irish Times

"How lovely to encounter a grownup romantic in Simon Van Booy….[He] is a lovely writer, and Everything Beautiful Began After is a kind book."
-Open Letters Monthly

"Beautifully written, touchingly told, Van Booy radiates pain, fears, love and freedom on every page of this book."
-Passport

"A tender, earnest first novel....Van Booy wisely resists romanticizing torment, instead suggesting that grief -- tied as it is to fate and faith -- can give awy to promise."
-Publishers Weekly

"If F. Scott Fitzgerald and Marguerite Duras had had a son, he would be Simon Van Booy; this is a truly special writer who does things with abstract language that is so evocative and original your breath literally catches in your chest. This is a novel you simply must read!"
-Andre Dubus III, New York Times bestselling author of Townie

"Already a new-generation master of the short story, Simon Van Booy has now emerged as a newly minted master of the novel as well….Van Booy is a writer whose work I will forever eagerly read."
-Robert Olen Butler, Pulitzer Prize-winning author of A Good Scent from a Strange Mountain

"Everything Beautiful Began After both creates and satisfies a feeling of wanderlust. Van Booy's confident prose carries the reader over oceans and back again, into archaeological digs and airport hotels, and the romance at the center of the book stays vivid long after the story is through."
-Emma Straub, author of Other People We Married