Show Me How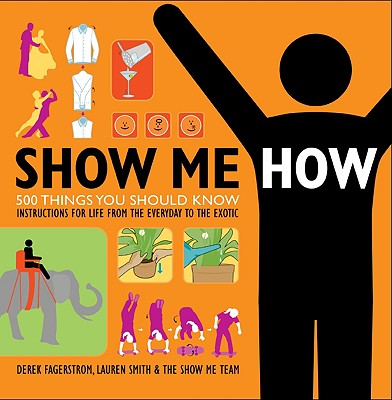 Show Me How
500 Things You Should Know: Instructions for Life from the Everyday to the Exotic
Collins Publishers, Paperback, 9780061662577, 320pp.
Publication Date: October 28, 2008
* Individual store prices may vary.
Not Currently Available for Direct Purchase
or
Shop Local
Enter your zip code below to purchase from an indie close to you.
Description
Show Me How is a revolutionary reimagining of the reference genre, one part how-to guide, one part graphic art showpiece, and one part pure inspiration. In a series of 500 nearly wordless, highly informative step-by-step procedurals, readers learn how to do hundreds of useful (and fascinating and important and sometimes downright bizarre) tasks, including: Perform CPR, dance the tango, pack a suitcase, win a bar bet, play the blues, make authentic sushi rolls, fight a shark . . . and 493 more essentials of modern life. Packed with useful hands-on reference material, Show Me How is a work of art that just happens to also be an indispensable real-life resource.
Visit showmenow.
About the Author
Lauren Smith and Derek Fagerstrom are California-based editors, writers, designers, shop owners, and lovers of the unusual, the eclectic and, especially, the hand-crafted. They currently run The Curiosity Shoppe in San Francisco's Mission District, selling (and falling in love with) everything from a make-it-yourself ukulele to a DIY bird-watching kit.

Lauren Smith is the award-winning author of Blood Moon on the Rise, The Bite of Winter, and the League of Rogues series. The recipient of multiple awards in several romance subgenres, she is an Amazon.com Breakthrough Novel Award quarter-finalist and a semi-finalist for the Mary Wollstonecraft Shelley Award.