The Domino Men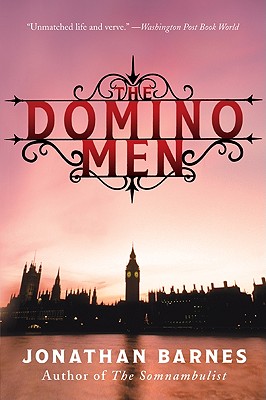 The Domino Men
Harper Paperbacks, Paperback, 9780061671418, 382pp.
Publication Date: April 6, 2010
* Individual store prices may vary.
Buy Now
or
Shop Local
Enter your zip code below to purchase from an indie close to you.
Description
In an earlier century, Queen Victoria made a Faustian bargain, signing London and all its souls away to a nefarious, inhuman entity. Now, generations later, the bill has finally come due. . . .
An amiable, unambitious London file clerk, Henry Lamb leads an unremarkable lifeuntil the day he learns he's expected to assume the covert responsibilities of his universally despised, now comatose grandfather. London is at war, and a shadowy organization known (to a very few) as the Directorate wishes to recruit Henry to the cause. All he has to do is find "the girl," save the world from the monster Leviathan, and defeat the unspeakable evil lurking in the cellar of 10 Downing Street: the serial-slaying schoolboy twins known as the Domino Men.
About the Author
Jonathan Barnes, author of the critically acclaimed novel "The Somnambulist", graduated from Oxford University with a first in English literature. He reviews for the "Times Literary Supplement" and lives in London.
Praise For The Domino Men…
"If you only read one black comedy with the brains and labyrinthine twists of Vedantic hair-splitting, make it this one....a gripping yarn."
-Chicago Sun-Times

"Unmatched life and verve."
-Washington Post Book World

"A fantastic novel."
-Denver Rocky Mountain News

"Marvelously imaginative."
-The Onion

"Another remarkable outing, an infectious blend of wit, wonder, and the bizarre presented with remarkable style. This is literary fiction for the genre fiction set, or possibly the other way around...genuinely shocking and inventive."
-San Antonio Express-News

"Kudos Barnes for another winner that is as funny as it is creepy, as thought provoking as it is entertaining."
-Colorado Springs Independent

"Barnes's second novel, a compelling supernatural thriller, shows that his impressive debut, The Somnambulist, was no fluke. …Thanks to Barnes's evocative prose, readers will easily suspend disbelief. Those who enjoy the grafting of fantasy elements onto contemporary urban landscapes will be more than satisfied."
-Publishers Weekly (starred review)

"Nothing about Barnes's follow-up to The Somnabulist is predictable....The grotesque fantasy world is a riot."
-mX Brisbane (Australia)

"Strange, outrageous, and wonderful … There is much that is strange, magical, and darkly hilarious about this book … An original and monumentally inventive piece of work by a writer still in his 20s. Barnes seems to leave himself room for a sequel—a consummation devoutly to be wished."
-Washington Post

"Old school entertainment in the penny-dreadful tradition that almost succeeds in being as sublime as it is ridiculous."
-Entertainment Weekly

"A comic extravaganza, deftly plotted, fiendishly clever, and wonderfully funny. Jonathan Barnes combines a love of Victorian absurdity worthy of Edward Gorey with the surrealistic invention of a London-obsessed Garcia Marquez. This parody penny-dreadful is one of the classiest entertainments I've read in a long, long time."
-Christopher Bram, author of Exiles in America

"Macabre wit and stylistic panache. Parliament should immediately pass a law requiring Barnes to write a sequel."
-James Morrow, author of The Last Witchfinder and The Philosopher's Apprentice

"Magical, dark, beautifully odd–and utterly compelling–this is an astonishing debut."
-Michael Marshall, author of The Intruders

"Sneaky, cheeky, and dark in the best possible way, Jonathan Barnes' massively entertaining The Somnambulist manages to make the familiar daringly unfamiliar. I enjoyed the heck out of this novel."
-Jeff Vandermeer

"The best fantasy novel of the year."
-Rocky Mountain News

"A wonderfully original concoction of grotesque humour and sparkling prose."
-The Guardian

"This promising debut subverts its 19th-century predecessors amusingly. Inventive and often witty. A cabinet crammed with curiosities."
-The Observer

"A comic extravaganza, deftly plotted, fiendishly clever, and wonderfully funny. . . . One of the classiest entertainments I've read."
-Christopher Bram, author of Exiles in America