The Leisure Seeker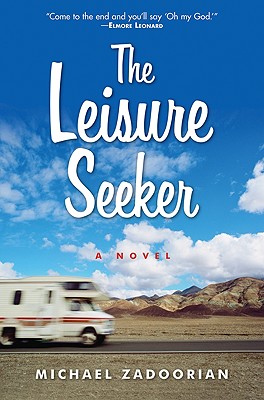 The Leisure Seeker
William Morrow & Company, Hardcover, 9780061671784, 272pp.
Publication Date: January 27, 2009
* Individual store prices may vary.
Buy at Local Store
Enter your zip code below to purchase from an indie close to you.
or
Not Currently Available for Direct Purchase
Description
John and Ella Robina have shared a wonderful life for more than fifty years. Now in their eighties, Ella suffers from cancer and has chosen to stop treatment. John has Alzheimer's. Yearning for one last adventure, the self-proclaimed "down-on-their-luck geezers" kidnap themselves from the adult children and doctors who seem to run their lives to steal away from their home in suburban Detroit on a forbidden vacation of rediscovery.
With Ella as his vigilant copilot, John steers their '78 Leisure Seeker RV along the forgotten roads of Route 66 toward Disneyland in search of a past they're having a damned hard time remembering. Yet Ella is determined to prove that, when it comes to life, a person can go back for seconds--sneak a little extra time, grab a small portion more--even when everyone says you can't.
Darkly observant, told with humor, affection, and a touch of irony, The Leisure Seeker is an odyssey through the ghost towns, deserted trailer parks, forgotten tourist attractions, giant roadside icons, and crumbling back roads of America. Ultimately it is the story of Ella and John: the people they encounter, the problems they overcome, the experiences they have lived, the love they share, and their courage to take back the end of their own lives.
About the Author
Michael Zadoorian is the author of Second Hand and The Lost Tiki Palaces of Detroit: Stories.
Praise For The Leisure Seeker…
"Michael Zadoorian's bittersweet story about two runaways who are in their 80s and in failing health could be a lovely film… I could see Clint Eastwood and Shirley MacLaine in the lead roles…Call it Kerouac-lite. It's On the Road with shorter sentences and less drugs and sex."
-USA Today

"A wonderful novel, poignant and salty and full of those small, clear truths that become important when one draws close to the end of the road…Author Michael Zadoorian has captured an American icon in the forthright and feisty Ella…Read it before it becomes the next big thing."
-Tampa Tribune

"Michael Zadoorian serves up an affectionate, clear-eyed peek at a pair of self styled "down–on–their–luck geezers" who just aren't ready to go gentle into that good night…Here's to hoping that we all handle our last days so well."
-BookPage

"An elderly couple face down death by taking one last, thoroughly unauthorized vacation…A bittersweet fable of the golden years likely to offer consolation to readers who've ever known anyone old, or have plans to get old themselves."
-Kirkus Reviews

"Zadoorian's pace is deceptive, it's restful. But unexpected scenes jump out at you. Come to the end and you'll say 'Oh my God.'"
-Elmore Leonard

"Second Hand is a wonderful book about life at yard sales, garage sales, and the like, where many antiques begin their journey 'up the ladder' into the upper retail realms."
-Chris Jussel, host of Antiques Roadshow, PRAISE FOR SECOND HAND

"Zadoorian has done no less than re-invent the American road story. These Easy Riders—drugged-up on meds, desperately in need of their naps, and determined to enjoy every last moment—are some of the most memorable characters I've ever met on the page."
-Pagan Kennedy

"A couple of terminal senior citizens skip the end stage of hospitals and anxious children, step on the gas and stoically hightail it out of town…Death foretold, absolutely, but also the delight and adventure that comes late in life. The Dangerous Book for Seniors!"
-Bob Morris

"Both achingly sad and intensely romantic, this unforgettable story of a last honeymoon hooked me from the first page. The Leisure Seeker depicts the heartrending choices of a loving couple, illuminated by events both past and present. I couldn't put it down."
-Marjorie Hart, author of the national bestseller SUMMER AT TIFFANY

"In this affecting road novel, an elderly married couple leave their Detroit home and take off in their camper for one last adventure together… it's impossible to deny that Ella's wise, feisty voice turns what could be a sappy melodrama into an authentic and funny love story."
-Publishers Weekly

"Zadoorian's offbeat humor and obvious sympathy for his characters takes a story that could have been grim in the wrong hands and turns it into one of the most delightful books I've read in years."
-Carol Schneck (Schuler Books & Music), for GALLEY TALK in Publishers Weekly

"Ella is a remarkable creation...Her middle-aged children's panicked demands that the couple return home will resonate with any adult who has feared for a parent's well-being. he Leisure Seeker is pretty much like life itself: joyous, painful, moving, tragic, mysterious, and not to be missed."
-Booklist, starred review

"This is no golden-age "Thelma and Louise" story. Zadoorian, like his protagonists, sticks to the slow lane, and the pace and sense of inevitability surrounding the Robinas' journey is almost reminiscent of Cormac McCarthy's "The Road." But there's wry humor…along with a host of tender moments."
-Orlando Sentinel

"An unforgettable book…a poignant, touching and funny adventure of two people setting off in their 1978 Leisure Seeker that takes them off to relive some cherished memories and allows them to take their lives in their own hands for the final years of life 's journey. I loved this book."
-Escapees

"The humor is dark, the story poignant (for instance, Ella describes their RV as a "recreational sarcophagus") and the journey so descriptive that it makes you want to take the trip yourself."
-Flint Journal

"Faces head-on what the parents (John and Ella) have to deal with when faced with painful death…Zadoorian is true to these geezers. He draws them in their most honest light…I hoped for a book that would make me laugh during these tight times, and I was rewarded."
-Los Angeles Times

"An evocative tale….Zadoorian mixes some dark humor with issues that touch nearly everybody. This reviewer, usually hooked on crime novels and sports, found The Leisure Seeker hard to put down."
-Daily News (Michigan)

"Pick of the Week: This book evokes with great insight, tenderness and humour the absurdities and indignities of old age but also its freedoms and consolations."
-Sydney Morning Herald

"Road trip novels are as common as snow in Siberia…but Zadoorian adds some refreshing detours to the genre in his second novel…told from Ella's mordantly funny point-of-view…the gripping conclusion deserves to be read, not told."
-The Hour, Detroit

"A funny, bittersweet and courageous story as they cross the country, stopping at forgotten roadside attractions, watching old slides and remembering their life and love. In a word: touching. "
-Melbourne Herald Sun

"A highly unusual, quirky treat…it would make a dandy movie for those who enjoyed The Notebook. Sad and funny, heart-warming and heart-breaking, Zadoorian's mesmerizing tale is definitely one to savor, deftly told by a clever, witty master craftsman."
-Lansing State Journal

"One of the standards for a book is: Would I recommend it to friends?…I would recommend Michael Zadoorian's "The Leisure Seeker" to almost anyone. It's a beautifully simple story…: readable, frequently funny, sometimes all too realistically poignant…This is Detroit-area writer Zadoorian's second book; watch him; he's going places."
-Detroit Free Press

"This is a sad, sweet love letter to a fading America, elevated beyond its simple premise by its sharp humour about aging and a quietly shocking ending…it's hard to think of a more purely likeable novel in recent times."
-Sydney Sun Herald