Breathing Water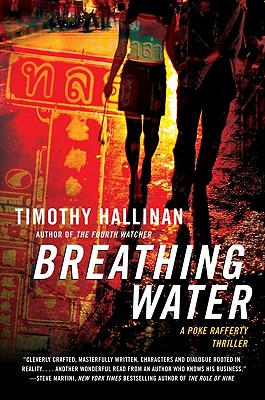 Breathing Water
Harper Paperbacks, Paperback, 9780061672255, 344pp.
Publication Date: August 17, 2010
* Individual store prices may vary.
Buy at Local Store
Enter your zip code below to purchase from an indie close to you.
or
Buy Here
Description
A late-night poker game in Bangkok nets American ex-pat writer Poke Rafferty the "opportunity" to write the biography of Khun Pan, a flamboyant, vulgar, self-made billionaire with a criminal past and far-reaching political ambitions. Within hours, Rafferty, his wife, Rose, their adopted daughter, Miaow, and Poke's best friend, honest Bangkok cop Arthit, have become disposable pawns in a brutal power struggle among some of Thailand's richest, most ruthless citizens. There are those who would go to any length to ensure the book is never written and others equally desperate to have Pan's darkest secrets exposed. Suddenly Rafferty is sinking deeper in a perilous sea of treachery and intrigue--and caught up in the inhuman machinations of an Asian babyselling ring--as he searches frantically for the only chance he may have to get everyone he loves out alive.
Praise For Breathing Water…
"Hallinan is a born storyteller, layering plot upon plot and twist upon turn, and, as a bonus, he's a superb stylist whose assured prose continually delights and surprises the reader....A thriller with a heart that's easily one of the best books of the year."
-Sunday Denver Post

"The dialogue crackles, the sense of one of the world's edgiest cities is sharp, and the plight of the poor, especially the children, is moving."
-Booklist

"BREATHING WATER is action-packed and steamily atmospheric, and as cleverly plotted a mystery as you are likely to read this year."
-BookPage (September Mystery of the Month)

"Cleverly crafted, masterfully written, characters and dialogue rooted in reality, BREATHING WATER offers fascinating insights into the dark side of crime in another culture. Written with the authority of one who knows life on the hard edge in southeast Asia. Another wonderful read from an author who knows his business."
-Steve Martini, New York Times bestselling author of Shadow of Power and Compelling Evidence

"BREATHING WATER crackles with the intrigue and danger of the streets and sanctums of modern-day Bangkok. Like a twenty-first century Maltese Falcon laced with Bangkok 8."
-Andrew Gross, New York Times bestselling author of The Blue Zone, The Dark Tide, and Don't Look Twice

"Another masterpiece of contemporary crime fiction. Hallinan takes us on a thrilling Tuk Tuk ride into a city seemingly always on the verge of chaos that somehow always manages to hold together-if you like tautly plotted, intelligent crime fiction do yourself a favor and jump on board."
-Adrian McKinty, author of Dead I Well May Be and Fifty Grand

"The best thriller of the year. Smart, fast, exotic."
-Larry Beinhart, author of SALVATION BOULEVARD and American Hero (AKA Wag the Dog)

"BREATHING WATER is a stunning, beautiful, and gripping thriller. Hallinanweaves together an engrossing story with prose that jump off the page, andmakes you feel like you are actually there. No question, this is one of thebest books of the year."
-Brett Battles, author of SHADOW OF BETRAYAL and THE CLEANER

"Hallinan's prose will engage readers.... Never lags for intrigue as it interweaves the lives of Thai street children with a tale of political power gone bad."
-Kirkus Reviews

"Humor and horror expertly play off one another in a rapid-fire story of political intrigue and murder. The plot is skillfully tangled and the sense of menace refreshingly relentless. Top form writing set in Bangkok, a great place for action and a backdrop Hallinan uses to superb advantage."
-James Church, author of A Corpse in the Koryo

"The latest entry in the compelling "Bangkok Thriller" series. I love this series because the Bangkok setting offers a platform for Hallinan to explore social and ethical conventions. (With) a strong theme supporting love, family and loyalty while challenging our Western preconceptions of what those things should really mean."
-San Jose Mercury News

"Fast-paced...Beautifully written, with vivid descriptions."
-Cambodia Daily

"BREATHING WATER is as brilliant a piece of crime fiction as I've had the pleasure of reading, from the clean prose of the author to Poke Rafferty's noir humor, and the richness of the Thai landscape."
-www.gumshoereview.com

"Breathing Water is the best contemporary crime fiction I've read in a long time. I plan on going out immediately and buying all of Hallinan's other books."
-TheGenreReview.com

"Hallinan has crafted a fast-paced, high-energy thriller that grabs you from the very first moment and doesn't let up . . . . Breathing Water is indeed the best crime fiction I've read, not only this year, but in the past ten. "
-www.thenovelblog.com

"The book is extraordinary, magnificent, exceptional, heart-shaking, heart-breaking, brilliant. As I read this book, I laughed, I cried, I gasped-but I never, ever yawned. BREATHING WATER is a great book. "
-www.reviewingtheevidence.com

"A terrific thriller . . . Last year's The Fourth Watcher was [Hallinan's] best yet -- but his new one, Breathing Water, tops it. Hallinan's books are more ferocious than [John] Burdett's, and he excels at creating truly frightening villains."
-Dick Adler, theknowledgeableblogger.blogspot.com

"This is a book that can be enjoyed on many levels. The mystery, danger, and intrigue satisfy the lover of mystery and thriller, while the relationships give the story depth. Especially nice is the relationship between Rafferty and Arthit, one of the few honest cops in Bangkok."
-www.bloggernews.net/122019

"Captures the essence of life in Bangkok and delivers all the mystery, intrigue and breathtaking excitement one comes to expect from the Poke Rafferty series of superb crime thriller novels. With this one, author Hallinan is at the top of his game. "
-www.perfecttext.com

"The thrill in reading Breathing Water comes from the subtle but relentless escalation of tension in the story. . . . The poignant conclusion will no doubt bring a tear or two to one's eyes. A remarkable and unusual novel and may be Hallinan's best to date. "
-www.mysteriousreviews.com

"Hallinan has outdone himself with Breathing Water. The previous Bangkok Thrillers are outstanding books but Breathing Water is even better . . . Breathing Water keeps the reader on edge until the very satisfying conclusion."
-www.booksnbytes.com (5 stars)

"A Nail Through the Heart was a revelation, yet The Fourth Watcher was a leap forward. Breathing Water takes another step. It's a book you'd be sorry to finish if you weren't so emotionally exhausted by the end. Look for it on award lists at the end of the year."
-www.newmysteryreader.com

"[A] searing beauty of a book. A compelling tale of a quiet hero just trying to get by in the best worst city in the world. If you like exotic thrillers that are as full of heart as they are twists and reverses, you should check it out."
-Schuler Books Blog

"If you have not yet discovered the Poke Rafferty/Bangkok Thriller series, it's time to put on a wetsuit and start Breathing Water. A rich, multi-leveled, intelligent thriller series that will tickle you to laugh, challenge you to think, and buckle you in for an adventurous ride through Bangkok."
-Jen's Book Thoughts