Beautiful & Pointless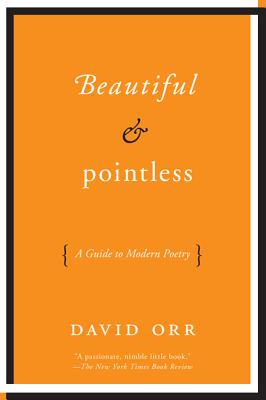 Beautiful & Pointless
A Guide to Modern Poetry
Harper Perennial, Paperback, 9780061673467, 215pp.
Publication Date: December 13, 2013
* Individual store prices may vary.
Buy at Local Store
Enter your zip code below to purchase from an indie close to you.
or
Buy Here
Description
Contemporary poetry may seem like a foreign country you've barely visited and wouldn't dream of living in. Beautiful & Pointless, however, reveals how to accept the foreignness of poetry in the same way we accept the strange delights of a place we're traveling to for the first time. Expect a little confusion, many delightful surprises, and a few experiences that will change the way you think about language and life.
Award-winning critic David Orr is what every reader hopes for: the guide who points the way, doesn't talk too much, and helps you see what you might have missed on your own. Stimulating, amusing, and utterly engrossing, Beautiful & Pointless empowers us to engage with poetry as individual readers, allowing each of us to appreciate it in our own way.
About the Author
David Orr is the poetry columnist for The New York Times Book Review. He is the winner of the Nona Balakian prize from the National Book Critics Circle and the Editors Prize for Reviewing from Poetry magazine. He lives in Ithaca, New York.
Praise For Beautiful & Pointless…
"Beautiful and Pointless holds a mirror up to the poetry world itself. Orr starts from a brilliantly accurate characterization of what it feels like to read a poem, which should be up on the wall in every high school English classroom."
-Slate

"With Beautiful & Pointless, Orr mingles humor with analysis in a way that should provide fodder for novices and academics in equal measure."
-The Onion

"A passionate, nimble little book."
-David Kirby, The New York Times Book Review

"Equal parts friendly invitation for the uninitiated into the joys and possibilities of reading poetry for the uninitiated and opinionated cultural critique of the contemporary American poetry scene. . . . The book covers a heck of a lot without getting lost in the esoteric."
-Publishers Weekly (starred review)

"David Orr is an authentic iconoclast. His criticism is exuberant and original. Dr. Johnson, my critical hero, urged us to clear our mind of cant. Orr has cleared his. He will enhance the perception of his readers. And he wins my heart by his love for Edward Lear."
-Harold Bloom

"Beautiful & Pointless is a clear-eyed, opinionated, and idiosyncratic guide to a vibrant but endangered art form, essential reading for anyone who loves poetry, and also for those of us who mostly just admire it from afar."
-Tom Perrotta

"David Orr reminds us that poetry is an ancient and living art, a robust American art, and not a commodity or vehicle for self-expression, social betterment, or career enhancement. He argues his case with passion, eloquence, erudition and good sense - and, as is his custom, not a little moxy."
-August Kleinzahler

"A short, lively guidebook. . . . With informal spirit and playful wit, Orr invites readers to disagree with him. . . . He comes across as an engaged, discriminating reader-critic concerned with examining rather than selling us a product."
-William H. Pritchard, Commonweal