Red, White, and Muslim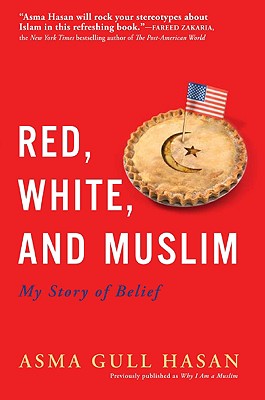 Red, White, and Muslim
My Story of Belief
HarperOne, Paperback, 9780061673757, 172pp.
Publication Date: February 17, 2009
* Individual store prices may vary.
Buy at Local Store
Enter your zip code below to purchase from an indie close to you.
or
Buy Here
Description
An Inspiring Account of One Woman's Journey to Reclaim Her Spiritual and Cultural Identity
For Asma Hasan, being a Muslim is not merely a matter of birth, but a matter of choice and faith. Hasan's personal relationship with her religion was, and continues to be, a defining element of her life, and through her writing she inspires a new understanding and appreciation of a frequently misunderstood tradition. This is her American story.
Praise For Red, White, and Muslim…
"Asma Hasan will rock your stereotypes about Islam in this refreshing book. Here is a young woman who embraces Islam, modernity, America, her family, and her friends -- all with enthusiasm and commitment. She sees no contradictions between them and, after you have read this book, neither will you."
-Fareed Zakaria, Editor, Newsweek International, and Author of The Future of Freedom

"A warm, witty, wonderful story about what it means to be both Muslim and American in a post-9/11 world. This is a book that every American should read."
-Reza Aslan, author No god but God: The Origins, Evolution, and Future of Islam and How to Win a Cosmic War: God, Globalization, and the End of the War on Terror

"Hasan makes for a disarming spokeswoman."
-USA Today

"Hasan's writing is a useful beacon for American Muslims who may be struggling to articulate their identities as both Americans and Muslims."
-Religion News Service

"In her last lively book, Asma Hasan called herself a 'Muslim feminist cowgirl' — referring to her years in Pueblo, Colorado. In this follow-up work that mixes autobiography with feisty insights into Islam and the many misconceptions people have about it, the author demonstrates the spiritual practice of enthusiasm..."
-Spirituality & Health

"Hasan's version of Islam would have appealed to America's founders with its advocacy of human equality, religious tolerance, property rights and self-improvement. It harmonizes just as well with 21st-century America's spiritual inclinations...This is do-it-yourself American religion at its most appealing."
-Publishers Weekly

"With insight, integrity, passion, and eloquence Hasan shares her personal journey as a proud American Muslim and in doing so breaks our stereotypes, melts our fears, nurtures our hopes, and enlightens our minds and hearts."
-Rabbi Irwin Kula. author of Yearnings: Embracing the Sacred Messiness of Life

"With passion and humor and wisdom, Asma Hasan compellingly explains why the seeming contradictions of her life as a traditional Muslim and a modern American are no contradiction at all. Asma Hasan not only loves Islam; she embodies the Islam of love."
-Yossi Klein Halevi, author of At the Entrance to the Garden of Eden: A Jew's Search for God with Christians and Muslims in the Holy Land

"...lively and authentic...At a dark hour, this book is a piece of bright and cheering news."
-Jack Miles, author of God: A Biography

"The life and reflections of this bright, talented, dynamic young Muslim woman are an excellent example of the fact that for many Muslims today Islam is a source of meaning, guidance and joy in their lives."
-John L. Esposito, professor, Georgetown University and author of What Everyone Needs to Know About Islam

"Honest, disarmingly open, and sparkling with the author's radiance and intelligence, Red, White, and Muslim opens a window to a world of faith, reason, and questioning that is distinctively American and Muslim at the same time."
-Noah Feldman, Bemis Professor of Law, Harvard Law School and author of Fall and Rise of the Islamic State

"A refreshing book showing Islam through the eyes of a bright Muslim woman in America. Asma is sincere in expressing her own vision with eloquence, integrity, and passion for her beliefs."
-Dr. Maher Hathout, senior advisor to the Muslim Public Affairs Council and Interfaith Alliance Board of Directors member

"Asma passionately shares with us her personal story and through her compelling voice, the reader connects to a convincing universal Muslim story of belief."
-Ranya Idliby, coauthor of The Faith Club

"Americans looking for a strong, moderate Muslim voice that publicly condemns terrorism and the second-class status of women should consider it done..."
-Publishers Weekly

"Hasan offers here another much-needed voice from Islam, one that is clear, rational and profoundly American."
-Kansas City Star