High Voltage Tattoo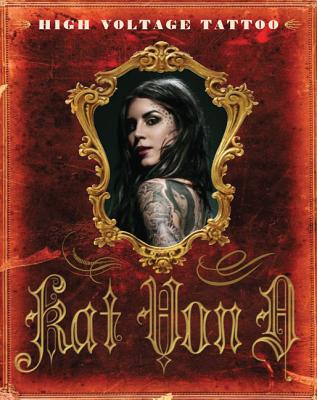 High Voltage Tattoo
Collins Design, Hardcover, 9780061684388, 174pp.
Publication Date: February 1, 2009
* Individual store prices may vary.
Buy at Local Store
Enter your zip code below to purchase from an indie close to you.
or
Buy Here
Description
High Voltage Tattoo is a graphic perspective on today's global tattoo culture by Kat Von D, star of The Learning Channel's L.A. Ink and one of the most talented and popular artists working today. Designed in a style that is reminiscent of a handmade Gothic journal with its red padded cover, ornate typography, and parchmentlike pages, it throws the door wide open to tattooing culture in the way only an insider like Kat can.
High Voltage Tattoo traces Kat's career as an artist, from early childhood influences to recent work, along with examples of what inspires her, information about the show and her shop, her sketches, and personal tattoos. The book goes deep into tattoo process and culture: readers can see up close the pigments, the tools, and the making of complex, even collaborative, tattoos.
With a foreword by MÖtley CrÜe's Nikki Sixx, the book features images and stories about celebrities, rockers, pro skaters, and everyday citizens, including Slayer's Kerry King, Anthrax's Scott Ian, Margaret Cho, Jackass' Bam Margera, David Letterman, and many others. It profiles and showcases the work of artists Kat has selected from all over the world, her interviews with people who have compelling tattoos and stories, and amazing images of extraordinary tattoo work. Numerous portfolios throughout the book showcase a range of relevant subjects, from the black and gray portrait work for which Kat is famous to a popular tattoo theme, such as the rose or biblical images. There is a knockout ten-page full-body spread of Katclad in a yellow bikini and seven-inch, rhinestone-studded red stilettosthat catalogs in detail all her personal tattoos on her front, back, left, and right sideseven her hands and head.
About the Author
Kat Von D is a renowned tattoo artist and the star of the former hit television series LA Ink, which ran for five successful years. She is the author of two New York Times bestsellers, High Voltage Tattoo and The Tattoo Chronicles, and is the creator of an exclusive makeup and fragrance line for Sephora. She is also the founder of Wonderland Gallery, an art gallery and boutique located next to her tattoo shop, High Voltage Tattoo, in Hollywood, where she lives.