Dancing to the Precipice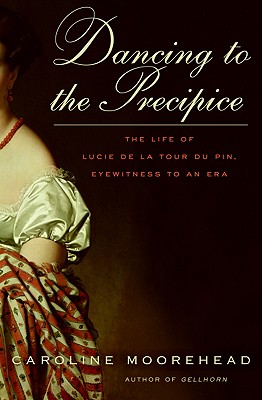 Dancing to the Precipice
The Life of Lucie de La Tour Du Pin, Eyewitness to an Era
HarperTorch, Hardcover, 9780061684418, 480pp.
Publication Date: June 2009
* Individual store prices may vary.
Shop Local
Enter your zip code below to find indies closest to you.
Description
Her canvases were the court of Louis XVI and Marie Antoinette; the Great Terror; America at the time of Washington and Jefferson; Paris under the Directoire and then under Napoleon; Regency London; the battle of Waterloo; and, for the last years of her life, the Italian ducal courts. Like Saint-Simon at Versailles, Samuel Pepys during the Great Fire of London, or the Goncourt brothers in nineteenth-century France, Lucie Dillon—a daughter of French and British nobility known in France by her married name, Lucie de la Tour du Pin—was the chronicler of her age.
La Rochefoucauld called her "a cultural jewel." The Sultan of the Ottoman Empire favored her for his dinner companion in Paris. Napoleon requested she attend Josephine. Her friends included Talleyrand, Madame de StaËl, Chateaubriand, Lafayette, and the Duke of Wellington, with whom she played as a child. She witnessed firsthand the demise of the French monarchy, the wave of Revolution and the Reign of Terror, and the precipitous rise and fall of Napoleon. She spent two years as an ÉmigrÉ in the newly independent United States (on a farm in Albany) but was also a familiar of Regency London. A shrewd, determined woman in a turbulent age of men, Lucie de la Tour du Pin watched, listened, reflected—and wrote it all down, mixing politics and court intrigue, social observation and the realities of everyday existence, to offer a fascinating chronicle of her era.
In this compelling biography, Caroline Moorehead illuminates the extraordinary life and remarkable achievements of this strong, witty, elegant, opinionated, and dynamic woman who survived personal tragedy, including the loss of six children, and periods of extreme danger, exile, poverty, and illness. Meticulously researched, brilliantly written, and vastly entertaining, Moorehead's chronicle of Lucie's life is an incomparable social history of her times.
About the Author
Caroline Moorehead is the New York Times bestselling author of A Train in Winter and Human Cargo: A Journey Among Refugees, which was a finalist for the National Book Critics Circle Award. An acclaimed biographer of Martha Gellhorn, Bertrand Russell, and Lucie de la Tour du Pin, among others, Moorehead has also written for the Telegraph, the Times, and the Independent. She lives in London and Italy.