The Cardboard Universe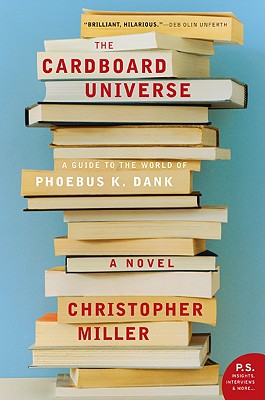 The Cardboard Universe
A Guide to the World of Phoebus K. Dank
Harper Perennial, Paperback, 9780061686368, 518pp.
Publication Date: April 2009
* Individual store prices may vary.
Buy Now
or
Shop Local
Enter your zip code below to purchase from an indie close to you.
Description
Genius or fraud? Hack or Hemingway? The life and work of obese, obsessive, logorrheic pulp novelist Phoebus K. Dank have long enflamed bitter controversy--and numerous drunken rants often culminating in vomiting, unconsciousness, or both. In this uproarious novel, Christopher Miller pulls back the curtain on two unforgettable critics--fawning scholar William Boswell (the world's leading Dankian) and his mortal enemy, the murderously snarky Owen Hirt. No stone is left unturned--and no gooey mess unstepped in--in this essential study of Dank's all-too-brief existence and all-too-extensive oeuvre.
About the Author
Christopher L. Miller, associate professor of history at the University of Texas, Pan America, received his Ph.D. from the University of California, Santa Barbara. His articles and reviews have appeared in numerous scholarly publications, and he is the author of Prophetic Worlds: Indians and Whites on the Columbia Plateau (1985). He has been actively involved in several programs to improve the teaching of history, including those funded by the Meadows Foundation, the U.S. Department of Education, and other agencies.
Praise For The Cardboard Universe…
"A delight . . . a Day-Glo Pale Fire, and maybe the best pure comic novel of the year."
-The Believer, citing The Cardboard Universe as a finalist for The Believer Book Awards

"Ingenious.…In the vein of John Kennedy Toole, Swift, and Twain, it's a tall tale that touches on all manner of topics, from bizarre clothing to punk rock to insomnia….packed with literary allusion and commentary, along with splashes of mystery…a brilliant, deliriously wordy stab at reimagining and recasting fiction."
-Boston Globe

"[A] pulp Pale Fire…hilarious.…It's deranged metafiction at its most entertaining.
-Details

"A Dickian feat of science-meta-fiction . . . plenty of devastating laughs . . . tragically funny and funnily tragic."
-The Wire (Portsmouth, NH)

"Must reading for [Philip K.] Dick fans and anyone who enjoys a little irreverent fun at the expense of a literary world."
-Booklist

"Miller's brilliant, hilarious The Cardboard Universe must be read immediately. Sentence by sentence, Miller proves himself a top-notch comedian, a master of invention, and a writer with a big heart."
-Deb Olin Unferth

"The funniest novel I've read in years. Smart, clever, and utterly original…an instant classic that belongs on the same shelf as Catch-22, Portnoy's Complaint, and A Confederacy of Dunces….[with] mindblowing plot twists worthy of Philip K. Dick himself, merciless mockery of everything ridiculous about the literary life."
-Mark Jude Poirier, author of Goats and Modern Ranch Living, screenwriter of Smart People

"Chris Miller's powers of invention seem infinite…one of the most original books I've read in a long time."
-Lynne Sharon Schwartz