Go, Mutants!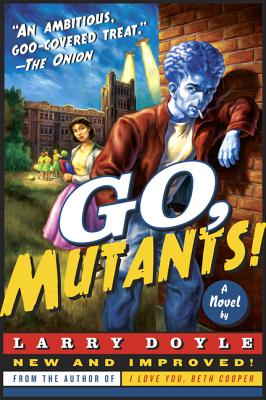 Go, Mutants!
Voyager, Paperback, 9780061686566, 400pp.
Publication Date: August 23, 2011
* Individual store prices may vary.
Buy at Local Store
Enter your zip code below to purchase from an indie close to you.
or
Not Currently Available for Direct Purchase
Description
Earth has survived repeated alien invasions, attacks by hordes of mutants, and the ravages of ancient beasts brought back to life. Now were in the blissful future . . . for most. J!m, the son of the alien who nearly destroyed the planet, is a brooding, megacephalic rebel with a big forehead and exceptionally oily skin. Along with Johnny, a radioactive biker ape, and Jelly, a gelatinous mass passing as a fat kid, J!m navigates a particularly unpleasant adolescence in which he really is as alienated as he feels, the world might actually be out to get him, and true love is complicated by misunderstanding and incompatible parts. As harmless school antics escalate into explosive events, J!m makes a discovery that will alter the course of civilization, and maybe help his dating life.
About the Author
Larry Doyle goes by thelarrydoyle on Facebook, Twitter, and in real life. Too much information about him is available at larrydoyle.com.
Praise For Go, Mutants!…
"In part a loving homage to and in part a send-up of '50s sci-fi, "Go, Mutants!" is one of the funniest books of the summer."
-San Francisco Chronicle

"[A] brilliant and sick-funny coming of age comedy novel...The book takes a funny premise (alienation of teens who are actually aliens) and gives it a heart and a really really big brain."
-Geekweek

"An ambitious, goo-covered treat."
-The Onion

"Every page overflows with jokes."
-Entertainment Weekly

"Incredibly inventive....A singularly original work that wears its inspired mutant heart on its sleeve and its advanced alien brain on its funny bone....GO, MUTANTS! illuminates both a past worth remembering and a future worth looking forward to."
-Will Viharo, Retrospective Magazine

"Old sci-fi movies have not yet been mined of all their entertainment possibilities. So potentially, Go, Mutants! could start them down the road to being overexposed. Sign me up! "
-Revolution SF

"Very funny… Go, Mutants! moves at faster-than-light speed. If Earth ever needs an Interplanetary Humor Ambassador, Larry Doyle's the guy."
-Washington Post

"Combines campy 1950s horror and sci-fi flicks with "Rebel Without a Cause"-like teen angst....[a] silly, amusing pop-culture mash up."
-New York Post

"[A] frenetic satire....Every sentence careens with energy, wisecracks, and winks at everything from triffids to Altair IV. Shades of the Red scare and allegories about puberty abound, too, but thankfully, gooey atomic mayhem wins the day."
-Booklist

"Doyle provides a frenetic, sublimely silly, all-over-the-map mashup of B movies that's also a sendup of American pop and political culture...Rollickingly inventive and often hilarious."
-Kirkus Reviews