Mr. Arkadin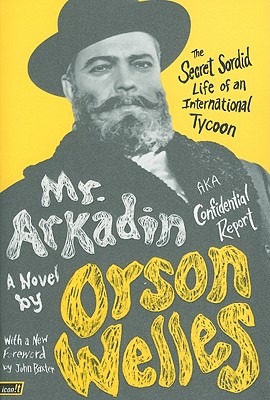 Mr. Arkadin
Aka Confidential Report: The Secret Sordid Life of an International Tycoon
It Books, Paperback, 9780061689031, 226pp.
Publication Date: April 2010
* Individual store prices may vary.
Buy Now
or
Shop Local
Enter your zip code below to purchase from an indie close to you.
Description
The only novel by Orson Welles, a witty, madcap, pulp-noir adventure of international intrigue, blackmail, and murder
The mysterious Mr. Arkadin claims he cannot remember anything of his life prior to the moment in 1927 when he found himself alone in Zurich with two hundred thousand Swiss francs in his pocket, a sum with which he subsequently built a vast fortune. Now a fabulously wealthy and influential financier, he enlists the services of one Van Stratten, a small-time smuggler and racketeer, charging him with the task of investigating Arkadin's forgotten past. Traveling across the world--and through the seedy underworld of postwar Europe--Van Stratten begins piecing together information for his confidential report. But for some unknown and sinisterly suspicious reason, everyone he speaks to soon turns up dead.
The work of an acknowledged genius of the stage and cinema, Mr. Arkadin: Aka Confidential Report is the basis for the controversial motion picture written, directed by, and starring Welles himself--the movie the great auteur bemoaned as "the most butchered film of my career." Welles's hauntingly strange and exhilarating novel remains an enigmatic expression of his intentions and an enduring example of his storytelling brilliance.
About the Author
Orson Welles (1915-1985) was an iconic Academy Award-winning director, writer, actor, and producer for film, stage, radio, and television. He won the 1941 Academy Award for best original screenplay for Citizen Kane and in 1970 received the Academy Honorary Award. Known for his baritone voice, he was well regarded as a radio and film actor, a celebrated Shakespearean stage actor, and an accomplished magician. He first gained notoriety for his October 30, 1938, radio broadcast of H. G. Wells' The War of the Worlds. Winner of multiple awards, he is now widely acknowledged as one of the most important dramatic artists of the twentieth century. In 2002, two British Film Institute polls of directors and critics voted Orson Welles the greatest film director of all time.

John Baxter is a novelist and broadcaster as well as being a hugely acclaimed film critic and film biographer. His subjects have included Woody Allen, Steven Spielberg, Stanley Kubrick and Robert De Niro.