The Elements of Story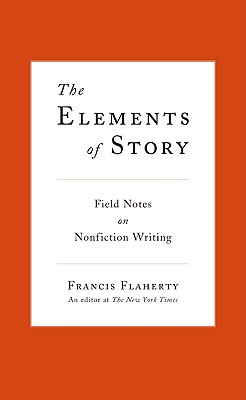 The Elements of Story
Field Notes on Nonfiction Writing
Harper, Hardcover, 9780061689147, 320pp.
Publication Date: July 1, 2009
* Individual store prices may vary.
Buy at Local Store
Enter your zip code below to purchase from an indie close to you.
or
Not Currently Available for Direct Purchase
Description
Most writing books dwell on common issues of style and grammar. Yet most writers also confront complex problems of story design.This 50-rule guide by Francis Flaherty, a New York Times editor, offers much-needed solutions and sage advice to address these concerns.
"Sometimes, say things sideways," Flaherty writes. "The reader will be grateful." "White is whitest on black," he observes. "Let contrast work for you." Through such hard-won, story-level insights, sprinkled with examples from real stories and leavened with a good dose of newsroom memoir, The Elements of Story merits a spot on every writer's shelf.
About the Author
Francis Flaherty has worked for more than seventeen years at The New York Times. He has written for Harper's, Atlantic Monthly, Commonweal, and The Progressive and teaches journalism at NYU. He lives with his wife and two children in Brooklyn, New York.
Praise For The Elements of Story…
"Frank Flaherty's The Elements of Story is a model of good sense, a clear, well-lighted path through the jungle of nonfiction narrative. It represents so much accrued wisdom that even veteran writers will want to keep it on hand, and it's fun to read, too."
-Luc Sante, author of Low Life

"Flaherty's book will be the classic yardstick for how to grab readers and not let go until they see and hear and think exactly what the author has seen, heard, and thought."
-Andre Aciman, author of Call Me By Your Name

"Ailing writers, not to worry. There is a Story Doctor in the house. His name is Frank Flaherty, and his powerful medicine is on every page of The Elements of Story. It belongs on your shelf right there next to that other Elements book."
-Roy Peter Clark, author of "Writing Tools"

"Frank Flaherty has found the perfect voice to guide writers in creating muscular yet nimble prose. He's encouraging and friendly (exuberant, even!), assured and wry. A delight to read, The Elements of Story makes me itch to write."
-Elizabeth Royte, author of ''Garbage Land: On the Secret Trail of Trash'' and ''Bottlemania: How Water Went on Sale and Why We Bought It.''

"Frank Flaherty's writing guide is fluid, fun and filled with brilliant advice for anybody who wants to improve their work, break into this country's top newspapers or get a glimpse into an editor's mind."
-Susan Shapiro, author of Only As Good As Your Word: Writing Lessons from my Favorite Literary Gurus

"Francis Flaherty has turned his love of writing into a book that will help journalists produce nonfiction that provides life enriching articles that can hold their own against the most imaginative fiction."
-Bill Kovach, former managing editor of The Atlanta Journal-Constitution and author of The Elements of Journalism

"A virtual Merck Manual for story doctors, filled with insightful diagnoses and effective prescriptions."
-William G. Connolly, co-author of The New York Times Style Manual of Style and Usage