The Anti-Romantic Child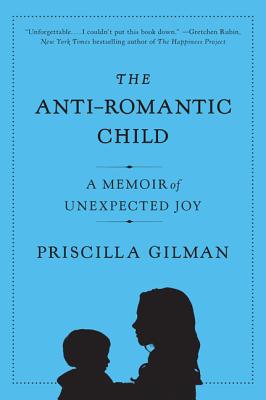 The Anti-Romantic Child
A Memoir of Unexpected Joy
Harper Perennial, Paperback, 9780061690280, 304pp.
Publication Date: April 24, 2012
* Individual store prices may vary.
Buy at Local Store
Enter your zip code below to purchase from an indie close to you.
or
Buy Here
Description
"TheAnti-Romantic Child is remarkable. This haunting and lyrical memoir will bean invaluable and heartening guide to all who find themselves in similarsituations and indeed anyone confronting an unforeseen challenge." --MarieBrenner, writer for Vanity Fair andauthor of Apples and Oranges

With an emotionally resonant combination of memoirand literature, Wordsworth scholar Priscilla Gilman recounts the challenges ofraising a son with hyperlexia, a developmentaldisorder neurologically counterpoint to dyslexia. Gilman explores thecomplexities of our hopes and expectations for our children and ourselves. Withluminous prose and a searing, personal story evocative of A Year of MagicalThinking and A Year of Reading Proust, Gilman's The Anti-RomanticChild is an unforgettable exploration of what happens when we lean toembrace the unexpected.
Praise For The Anti-Romantic Child…
"Smart, soulful, and involving."
-Nick Hornby, The Believer

"Rapturously beautiful and deeply moving, profound and marvelous."
-Andrew Solomon, author of The Noonday Demon

"The Anti-Romantic Child is beautiful, poetic, and heartfelt. It's more than a mother–child story; it's a journey of self-discovery. It's a book every parent should read."
-Kathryn Erskine, bestselling author of Mockingbird and winner of the 2010 National Book Award

"Priscilla Gilman's lyrical narrative is profoundly moving and ultimately joyous. It eloquently touches the universal."
-Harold Bloom

"What a glorious book Priscilla Gilman has written. Lively, eloquent, straightforward, and insightful, The Anti-Romantic Child deftly delineates and negotiates the complex cross-currents of a life of the mind and a life of the heart."
-Sandra Boynton, children's book author and illustrator

"Every parent should read this luminous book to absorb or absorb again the truth that every child is a surprise—a revelation—to be uniquely learned and understood as well as loved."
-Mary Catherine Bateson, author of Composing A Further Life: The Age of Active Wisdom

"Unforgettable. . . . I couldn't put this book down."
-Gretchen Rubin, bestselling author of The Happiness Project

"This is a fascinating, tender, illuminating book about an extraordinary boy and his equally extraordinary mother. A wonderful read."
-Martha Beck, author of Expecting Adam and columnist for O magazine

"A book for all parents. . . . [Gilman's] poignant story of reconciling fantasy with reality is a universal story of parental growth. A story to inspire us all."
-Ellen Galinsky, the Huffington Post

"A fantastic memoir. . . . I loved this book."
-KJ Dell'Antonia, lead blogger for the New York Times Motherlode