Ace of Cakes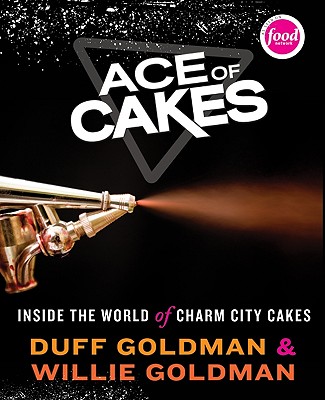 Ace of Cakes
Inside the World of Charm City Cakes
William Morrow & Company, Hardcover, 9780061703010, 307pp.
Publication Date: October 20, 2009
* Individual store prices may vary.
Not Currently Available for Direct Purchase
or
Shop Local
Enter your zip code below to purchase from an indie close to you.
Description
When Duff Goldman, Food Network's "Ace of Cakes," envisioned Charm City Cakes in Baltimore nearly a decade ago, his goal was to make wonderful cakes for friends and family. As word spread about his fabulous creations, his dream grew into a nationally renowned business staffed by a team of talented professionals, including musicians, artists, and creative souls with experience in architectural modeling, graphic design, deejaying, coffee making, performance art, dog walking, sculpture, painting and more.
Aces of Cakes: Inside the World of Charm City Cakes is a celebration of the bakery that started it all. This colorful scrapbook is loaded with stories about Duff's early days as a graffiti artist turned young chef, his successes and hilarious disasters, and the amazing team he built step-by-step. Through candid interviews and profiles and hundreds of photographs, illustrations, and collages, the book shows how energy, inspiration, collaboration, and a bit of luck can conspire to help anyone achieve their creative vision.
Of course, at the center of this stunning book are Charm City's Cakes. From the simple to the breathtakingly complex, Duff shows off some of the bakery's more unusual techniques and tools that shape their famous creations. He also offers a behind-the-scenes look at his Food Network show, shares his most incredible customer stories and requests, and reveals some of the bakery's favorite cake facts and tipsalong with a comprehensive episode guide and a monster cake montage featuring seven years' worth of the bakery's astonishing cake creations.
About the Author
Duff Goldman studied at the Corcoran School in Washington, D.C., and was a young graffiti artist of some notoriety. He started working for acclaimed Baltimore chef Cindy Wolf while attending the University of Maryland, Baltimore County. He studied pastries at the Culinary Institute of America and worked at the French Laundry under acclaimed pastry chef Steven Durfee, at the Vail Cascade Hotel and Resort, and at Todd English's Olives restaurant in Washington, D.C., before opening Charm City Cakes in Baltimore in 2000. Duff is also a sculptor and artist, and a musician who plays bass in the rock band . . . soihadto . . . . He lives in Baltimore, Maryland.