The Party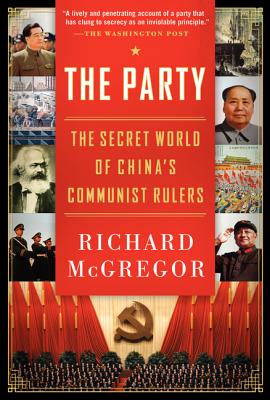 The Party
The Secret World of China's Communist Rulers
Harper Perennial, Paperback, 9780061708763, 302pp.
Publication Date: July 2012
* Individual store prices may vary.
Buy Now
or
Shop Local
Enter your zip code below to purchase from an indie close to you.
Description
In this provocative and illuminating account, Richard McGregor offers a captivating portrait of China's Communist Party, its grip on power and control over China, and its future.
China's political and economic growth in the past three decades has been one of astonishing, epochal dimensions. The most remarkable part of this transformation, however, has been left largely untold the central role of the Chinese Communist Party. In The Party, Richard McGregor delves deeply into China's inner sanctum for the first time, showing how the Communist Party controls the government, courts, media, and military and keeps all corruption accusations against its members in-house. The Party's decisions have a global impact, yet the CCP remains a deeply secretive body, hostile to the law and unaccountable to anyone or anything other than its own internal tribunals. It is the world's only geopolitical rival of the United States, and is primed to think the worst of the West.
About the Author
Richard McGregor is a reporter for the "Financial Times" and the publication's former China bureau chief. He was born in Sydney, Australia, where he also started his career as a journalist. He has reported from North Asia for nearly two decades and currently lives in London.
Praise For The Party…
"A masterful depiction of the party today. . . . McGregor illuminates the most important of the contradictions and paradoxes. . . . An entertaining and insightful portrait of China's secretive rulers."
-The Economist

"A fascinating and ambitious book. . . . Revealing. . . . McGregor lays bare the secretive machinery of the party, how it operates far more pervasively in public life and commerce than many suspect."
-Forbes

"McGregor does a persuasive job of sketching how communist the country really still is. . . . Anyone who wants to understand more about China would be well advised to pick up McGregor's book.
-Newsweek

"As informative as it is entertaining. . . . China has been transformed. There is no denying it. The system that takes the credit is brilliantly described by McGregor."
-The Financial Times

"Astute. . . . A sober, realistic book. . . . A readable guide to how China is governed."
-Bloomberg

"Richard McGregor has penned a detailed look at the Chinese Communist Party that is must reading for U.S. officials and China affairs specialists who profess to be perplexed at why the regime in Beijing consistently operates like a Soviet-style communist dictatorship and not a Western-style democracy."
-The Washington Times

"Fascinating. . . . The Party examines the intricate relationship between the Communist Party and the Chinese government, exposing how a political machine subverts the will to properly govern a billion people."
-Esquire

"The Party: The Secret World of China's Communist Rulers is a careful, highly well-informed and entertaining account of China's ruling class, chronicling the country's 30-year rise to major economic power despite high levels of poverty."
-The Associated Press

"A compelling exploration of the world's largest and most successful political machine."
-Isabel Hilton, New Statesman

"Superb in its depiction and demystification of the most important force at work in China today. Essential , riveting guide to how the rising power really works."
-Jonathan Fenby, author of The Penguin History of Modern China

"This is a marvellous and finely written study of how China is really run, and how its strange but successful system of Leninist capitalism really works. It should be read by anyone doing business with or just trying to understand China."
-Bill Emmott, former editor of The Economist

"Illuminating and richly-textured. . . . The Party will be invaluable for anyone trying to make sense of China's future plans and choices. It has certainly enriched my own understanding of the country."
-James Fallows, National Correspondent for The Atlantic

"Richard McGregor is one of the best foreign journalists who have ever reported from China. The Party is a fine contribution for those who want to know about the rising power they will face in the decades ahead."
-Ezra Vogel, Professor Emeritus, Harvard University

"An engrossing read. . . . McGregor's is a vivid narrative, sprinkled with humour and insightful analysis, of how the party has imprinted itself on almost every aspect of life in China, and how it has maintained its stranglehold on power."
-The South China Morning Post

"An illuminating and important new book. . . . A lively and penetrating account of a party that, since its founding in Shanghai as a clandestine organization in 1921, has clung to secrecy as an inviolable principle."
-The Washington Post

"An extraordinary book . . . with details never published before. . . . McGregor has done a terrific job of parting the curtains. . . . This book has come out at the right moment."
-The Sunday Times (London)

"Masterful. . . . McGregor's book is proof that for all of its secretive tendencies, the Party and its power can be usefully analyzed. . . . An accessible introduction to the Party's power in today's China."
-Ian Johnson, The New York Review of Books

"Fascinating. . . . Illuminating. . . . Mr. McGregor guides readers through recent events in China, teasing out what each tells us about the Party's role. . . . Reading this primer will help foreigners better navigate the hidden political shoals of the Chinese business world."
-The Wall Street Journal