God According to God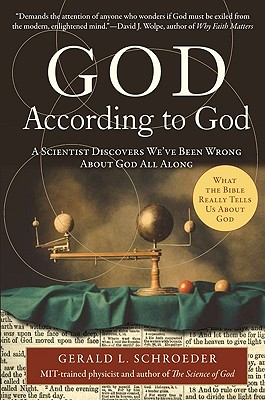 God According to God
A Scientist Discovers We've Been Wrong about God All Along
HarperOne, Paperback, 9780061710162, 251pp.
Publication Date: May 4, 2010
* Individual store prices may vary.
Buy at Local Store
Enter your zip code below to purchase from an indie close to you.
or
Buy Here
Description
In Defense of God
Renowned scientist Gerald L. Schroeder combines decades of scientific research and biblical study to present a groundbreaking new paradigm of how to understand God.
About the Author
The author of "The Hidden Face of God" and "Genesis and the Big Bang", Gerald L. Schroeder is an applied theologian with undergraduate and doctoral degrees from the Massachusetts Institute of Technology. His work has been reported in "Time, Newsweek, Scientific American", and in leading newspapers around the world. He lives in Jerusalem with his wife and their five children.
Praise For God According to God…
"This is as important a book on this subject as I recall ever having read."
-Huston Smith, author of The World's Religions

"Schroeder's insights help explore mankind's relationship with God in an entirely new and thought-provoking manner."
-Rabbi Heschel Weiner, director, Walder Science Laboratory and Learning Center

"A brilliant mix of ancient exegesis and modern science that will convince some and infuriate others. Schroeder's book demands the attention of anyone who wonders if God must be exiled from the modern, enlightened mind."
-David J. Wolpe, author of Why Faith Matters

"A remarkable book. The science as well as the meaning of this universe and of life are discussed with insight, rigor, and depth along with a perceptive, challenging and scholarly view of the Old Testament. Great for a thoughtful reader!"
-Charles H. Townes, winner of the Nobel Prize in Physics, Professor Emeritus at the University of California, Berkeley

"God According to God is crucially important reading …I found this book a ringing confirmation of my deepest feelings about the Living God of history."
-Shlomo Riskin, Chief Rabbi of Efrat

"Gerry Schroeder is one of a kind. Not only does he have a complete command of science but a complete command of the Biblical texts. As a result, he takes viewers on a fantastic journey that is both fun and extremely profound."
-Simcha Jacobovici, bestselling author and award-winning filmmaker

"No one can read this book and ever think of God or how our world operates in the same way again. Schroeder has the rare ability to present complex matters, whether theological or scientific, in an engaging and understandable way. A must read."
-Prof. James D. Tabor, Chair, Dept. of Religious Studies, UNC Charlotte, author of The Jesus Dynasty and Restoring Abrahamic Faith.

"Full of paradox, existential tensions, and spiritual and intellectual epiphany, the book is another gift to humanity from a scientist who is also a great man, a deep thinker, a spiritual counselor and a wonderful teacher."
-Rabbi David Lapin

"A remarkable tour de force, combining science, theology and biblical exegesis in a most compelling and significant way, casting a new light on how we view God and our own place within the world."
-Jerusalem Post

"[Schroeder] has written an intriguing book that will stimulate thinking about the world, God, and Judaism."
-Jewish Book World