The Enthusiast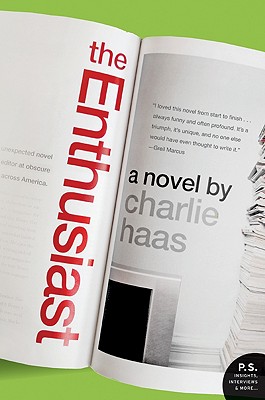 The Enthusiast
The Extraordinary Life of Nolan Richardson
Harper Perennial, Paperback, 9780061711824, 304pp.
Publication Date: May 26, 2009
* Individual store prices may vary.
Buy at Local Store
Enter your zip code below to purchase from an indie close to you.
or
Buy Here
Description
Henry Bay has his own America going. If there's an offbeat interest or extreme sport that's poised to sweep the nation, chances are there's a magazine for its enthusiasts, and chances are also good that Henry has worked there. He's a modern nomad, associate-editing his way from state to state, exploring the small worlds that make up modern America from Spelunk to Ice Climbing, to Cozy, The Magazine of Tea.
But those are other people's interests--Henry's still looking for his own enthusiasm. He ends up finding more than he ever imagined in this energetic, hilarious debut novel from a surprising and promising new voice.
Praise For The Enthusiast…
"(An) eccentric, slyly romantic debut novel. At heart, Henry is an oddball innocent, a romantic in search of meaning that eludes him early on. (T)he book captures something at once fragile and vital --the excitement of the ordinary, the exhilaration of the everyday."
-San Francisco Chronicle Book Review

"Funny and often moving."
-Los Angeles Times Book Review

"Witty and endearingly patriotic."
-Christian Science Monitor (Summer Reading List Pick)

"(THE ENTHUSIAST) isn't just a picaresque ride through the weirder side of the magazine industry, but a super-extended coming-of-age story. And a good one, too."
-The Onion AV Club

"THE ENTHUSIAST's best quality: a virtual guarantee that each page will include at least one delightful and surprising turn of phrase that could have wandered in from a Frank O'Hara poem."
-San Francisco magazine

"A charming, sly, and even wise first novel. (Haas) skillfully sketches memorable characters and places with a few pithy sentences, and his dialogue is often arch and very funny."
-Booklist

"I am having the most wonderful day, lying on the couch and reading Charlie Haas's brilliant book. It is wonderfully written, charming, wise, sometimes funny, always real. Henry is the perfect narrator, and the book reads like a dream."
-Anne Lamott

"Haas shows a skilled literary hand in his sharp first novel. The compelling side characters are central to the novel's charm…but the characters encountered aren't dismissed as freaks; rather, they're examined with a near curatorial zeal. This is a slick first novel: funny, thought provoking and a little alarming."
-Publishers Weekly (starred review)

"I loved this novel from start to finish. It's always funny and often profound. Again and again there are single lines that are both hilarious and saddening, that are alive both on the surface of the novel and in the depths of experience. It's a triumph, it's unique."
-Greil Marcus

"As impossible to categorize as it is to put down. THE ENTHUSIAST occupies a smart, weirdly fascinating, sometimes laugh-out-loud, ever soulful universe all its own. As close to perfect as any first novel should ever be allowed to be."
-Jerry Stahl, author of I, Fatty and Pain Killers