Havana Nocturne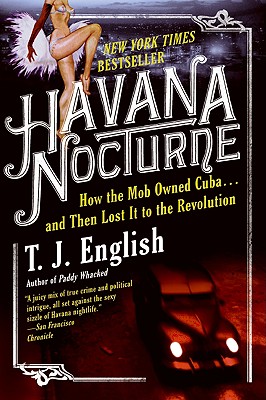 Havana Nocturne
How the Mob Owned Cuba... and Then Lost It to the Revolution
HarperTorch, Paperback, 9780061712746, 396pp.
Publication Date: June 9, 2009
* Individual store prices may vary.
Buy at Local Store
Enter your zip code below to purchase from an indie close to you.
or
Buy Here
Description
To underworld kingpins Meyer Lansky and Charles "Lucky" Luciano, Cuba was the greatest hope for the future of American organized crime in the post-Prohibition years. In the 1950s, the Mob--with the corrupt, repressive government of brutal Cuban dictator Fulgencio Batista in its pocket--owned Havana's biggest luxury hotels and casinos, launching an unprecedented tourism boom complete with the most lavish entertainment, top-drawer celebrities, gorgeous women, and gambling galore. But Mob dreams collided with those of Fidel Castro, Che Guevara, and others who would lead an uprising of the country's disenfranchised against Batista's hated government and its foreign partners--an epic cultural battle that bestselling author T. J. English captures here in all its sexy, decadent, ugly glory.
Praise For Havana Nocturne…
"A whiz-bang account of the Mafia's short-lived romp through 1950s Cuba."
-New York Times Book Review

"While Havana Nocturne makes you glad that Batista and his gangster pals ultimately got what they deserved, it also makes you regret never having gotten the chance to soak up a few mojitos while catching the floor show at the old Tropicana."
-Village Voice

"A tight storyteller, English provides a juicy mix of true crime and political intrigue, all set against the sexy sizzle of Havana nightlife."
-San Francisco Chronicle

"[An] excellent new book.… [English] provides a detailed account of the personalities and elements that made up Cuban life. His well-researched descriptions of how business, gambling, politics, revolution, music and religion all played off each other give Havana Nocturne a broad context and a knowledgeable edge."
-Washington Post

"Engaging….English's brand of narrative is history, and he aims to set the record straight."
-Miami Herald

"It's a roaring story, equal parts fact and myth, and for the first time, it gets told in its violent entirety by no less a crime scribe than T.J. English…compellingly telling."
-Miami Sun Post

"Spellbinding prose…Havana Nocturne is a powerful reminder of how the mob nearly achieved its biggest payday and how Castro beat the house, forever changing the course of history."
-San Antonio Express-News

"[An] entertaining new book…by veteran crime writer T.J. English"
-New York Post

"Crime writer English (Paddy Whacked) unfolds a story whose main outline will be familiar to any fan of The Godfather: Part II, but whose twists and turns no screenplay could keep up with."
-Kirkus Reviews

"True-crime writer English (Paddy Whacked) presents an empire-building saga in which the "Havana Mob" of American gangsters, led by visionary financier Meyer Lansky, controlled Cuba."
-Publishers Weekly

"English's engaging narrative reads with the gripping quality of fiction: the dark underworld of Havana comes to life....Highly recommended."
-Library Journal

"Finally, the definitive book has been written on the Mob's heyday in Cuba. Havana Nocturne is at once compelling and incisive—an entertaining page-tuner that will both shock and inform."
-Sam Giancana, author of Double Cross

"Sex and drugs and rockin' mambo! Havana Nocturne is a dazzling parade through the Mob's interests in Cuba. A must for Mob fans everywhere."
-Legs McNeil, author of The Other Hollywood and Please Kill Me

"All the razzle-dazzle is here—Sinatra, the black sedans, the showgirls—but English goes further, to show how gangsterismo permeated the politics of Cuba and influenced its destiny."
-The Scotsman