Jesus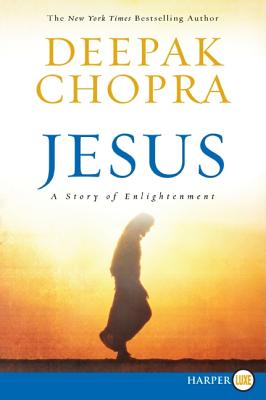 Jesus
A Story of Enlightenment
HarperLuxe, Paperback, Large Print, 9780061715167, 355pp.
Publication Date: November 4, 2008
* Individual store prices may vary.
Buy at Local Store
Enter your zip code below to purchase from an indie close to you.
or
Not Currently Available for Direct Purchase
Description
The New York Times bestselling author of Buddha captures the extraordinary life of Jesus in this surprising, soul-stirring, and page-turning novel. Uncovering the transformational "lost years" that are not recounted in the New Testament, Deepak Chopra has imagined Jesus's path to enlightenment moving from obscurity to revolutionary, from doubt to miracles, and then beyond as the role of the long-awaited Messiah. With his characteristic ability for imparting profound spiritual insights through the power of storytelling, Deepak Chopra's Jesus portrays the life of Christ as never before, ultimately leading us closer to understanding the nature of God and the soul.
About the Author
Deepak Chopra is the author of more than fifty-five books translated into over thirty-five languages, including numerous New York Times bestsellers in both fiction and nonfiction categories.
Praise For Jesus…
"A gripping tale of one man's archetypal journey through confusion, doubt, and despair to self-annihilation and the realization of his true identity as the 'light of the world.'"
-Eckhart Tolle, author of A New Earth and The Power of Now

"Once again, Deepak Chopra combines spirituality with dramatic narrative to breathe new life into a story that we all assumed we knew. This unique and intriguing story inspires as well as educates. Chopra's JESUS is every bit as compelling as his groundbreaking retelling of BUDDHA."
-Tim Kring, creator of Heroes & Crossing Jordan

"A la the Da Vinci Code, this thought-provoking tale is sure to ignite exciting questions and controversy."
-Jill Gregory, co-author of the international bestseller THE BOOK OF NAMES and the forthcoming thriller THE ILLUMINATION

"It is such an original and intriguing approach to imagine which Jesus was 'left out of the bible.' Chopra's novel is a fascinating read."
-Petru Popescu, author of the forthcoming GIRL MARY

"If you think all that could be said about Jesus has already been said, then this book will be an eye opener in the best and truest sense of those words. Do a major favor to your soul and read it."
-Miceal Ledwith, L.Ph., L.D., D.D., LL.D, former member of the Vatican's International Theological Commission and co-author of THE ORB PROJECT

"Deepak takes on the story of Jesus in a way that is both respectful and common. If as a Christian you are afraid of what is inside these pages, don't be. It quietly succeeded in restoring my faith in my own faith."
-Kevin Costner

"In Jesus: A Story of Enlightenment, Deepak Chopra dares us to ponder paradigms imbedded deep within our very DNA and question unquestionable truths. Chopra introduces a breathtaking epistemology that is altogether fresh and divine. His powerful revelation threatens our ability to live our lives in darkness."
-Cheryl Woodcock, Correspondent & Producer, Entertainment Tonight & The Insider

"We journey with a very human Jesus through a tough and turbulent landscape to discover his greatest message, that of personal transformation and enlightenment. Deepak Chopra's story is an inspiring gift for those who truly care and have the courage to seek."
-Michael Baigent, author of The Jesus Papers

As a Jew I was taught to reject Jesus. As a mystic I was drawn to his light. This brave book invites me to approach Jesus anew, with great curiosity and a humble heart, and to love him, in the end, as my Self."
-Raphael Cushnir, author of THE ONE THING HOLDING YOU BACK