Pop Apocalypse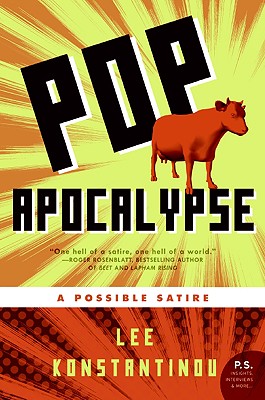 Pop Apocalypse
A Possible Satire
Harper Perennial, Paperback, 9780061715372, 292pp.
Publication Date: April 28, 2009
* Individual store prices may vary.
Buy at Local Store
Enter your zip code below to purchase from an indie close to you.
or
Buy Here
Description
The United States and its Freedom Coalition allies are conducting serial invasions across the globe, including an attack on the anti-capitalist rebels of Northern California. The Middle East--now a single consumerist Caliphate led by Lebanese pop singer Caliph Fred--is in an uproar after an attack on the al-Aqsa Mosque gets televised on the Holy Land Channel.
The world is on the brink of a total radioactive, no-survivors war, and human-kind's last hope is Eliot R. Vanderthorpe, Jr., celebrity heir, debauched party animal, and Elvis impersonation scholar. But Eliot's got his own problems. His evangelical dad is breeding red heifers in anticipation of the Rapture. Eliot's dissertation is in the toilet. And he has a doppelganger. An evil doppelganger.
Praise For Pop Apocalypse…
"A wastoid playboy gets sucked into a funny and paranoid near-future misadventure in Konstantinou's entertaining debut…This playful and witty novel takes our celebrity-obsessed and media-hijacked culture, mixes in geopolitics and a dash of cyberpunk dystopia to create an intelligent and blistering what-if."
-Publishers Weekly

"A wastoid playboy gets sucked into a funny and paranoid near-future misadventure in Konstantinou's entertaining debut…This playful and witty novel takes our celebrity-obsessed and media-hijacked culture, mixes in geopolitics and a dash of cyberpunk dystopia to create an intelligent and blistering what-if."
-Roger Rosenblatt, bestselling author of BEET and LAPHAM RISING

"One hell of a satire, one hell of a world."
-Roger Rosenblatt, bestselling author of BEET and LAPHAM RISING

"This playful and witty novel takes our celebrity-obsessed and media-hijacked culture, mixes in geopolitics and a dash of cyberpunk dystopia to create an intelligent and blistering what-if."
-Publishers Weekly

"…Konstantinou's clever caricature of the twenty-first century strikes a perfect balance between serious storytelling and humor."
-Sacramento Book Review