You or Someone Like You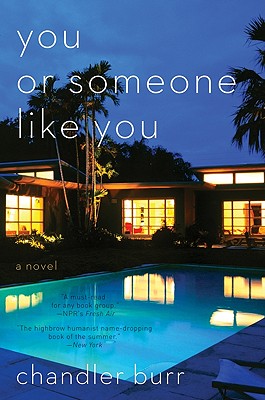 You or Someone Like You
Ecco Press, Paperback, 9780061715679, 319pp.
Publication Date: June 8, 2010
* Individual store prices may vary.
Buy at Local Store
Enter your zip code below to purchase from an indie close to you.
or
Buy Here
Description
"Chandler Burr's challenging first novel is many things: a glimpse into Hollywood culture, an argument about religious identity, a plea for the necessity of literature. This is a roman that needs no clefs." --Washington Post New York Magazine calls You or Someone Like You, "The highbrow humanist name-dropping book of the summer." The remarkable first novel by Chandler Burr, the New York Times scent critic and author of The Perfect Scent, is funny, smart, and provocative--an extraordinarily ambitious work of fiction that succeeds on many different levels. It is a book David Ebershoff, (author of The 19th Wife) enthusiastically recommends "for anyone who defiantly clings to the belief that a book can change our lives."
Praise For You or Someone Like You…
"Burr luxuriates in word play...You or Someone Like You is loaded with smart and sassy insights about writers and writing."
-Jerusalem Post

"You Or Someone Like You is a pitch-perfect, often very funny novel about why, in this crazy world, we still bother to read. It's for anyone who defiantly clings to the belief that a book can change our lives."
-David Ebershoff, author of The 19th Wife and The Danish Girl

"A true celebration of intellect . . . examines the personal decision each of us must make to run from, or embrace, our identity."
-Publishers Weekly

"In his first, well-crafted and thoroughly enjoyable novel, New York Times scent critic Chandler Burr presents a sweeping spectrum, set in Hollywood, of contemporary religious and social issues. . . . It is well worth the read."
-Jewish Book World

"Chandler Burr's challenging first novel is many things: a glimpse into Hollywood culture, an argument about religious identity, a plea for the necessity of literature. This is a roman that needs no clefs, and it's generally an interesting mash-up."
-Washington Post

"...This new novel questioning the merits of religion comes as a bit of a surprise from The New York Times' perfume critic...but Burr has proved to be much more than a hack with a good sense of smell...Chandler Burr: Renaissance man. Who knew?"
-The Daily Beast

"You or Someone Like You finds trend-loving Hollywood in a bookish trance and a certain studio exec's wife as literary guru du jour....Burr's tale touches on marital strife, prejudice, and identity struggles with intoxicating realism."
-Flavorpill.com

"The highbrow humanist name-dropping book of the summer."
-New York Magazine

"[Burr's] field work serves the novel well, with depictions of Los Angeles culture that feel spot-on...It's a genuine thrill to read what people like Albert Brooks, to give just one of many examples, might think of Jude the Obscure..."
-Time Out New York

"A savvy novel that deals with Hollywood from a cultural rather than a tabloid perspective."
-Kirkus Reviews (starred)

"Provocative...weighs in on the issue of identity politics and also makes a powerful case for why great books are a great danger to small minds."
-NPR's Fresh Air

"An ambitious debut novel...suggests the literary scope of Harold Bloom and the thematic concerns of Bernard Malamud...Mr. Burr may be the scent critic for the New York Times, but the ideas he tackles in his novel are hardly airy confections..."
-Wall Street Journal