Biblical Literacy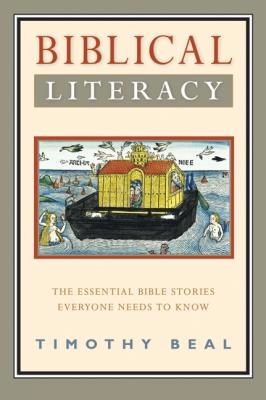 Biblical Literacy
The Essential Bible Stories Everyone Needs to Know
HarperOne, Paperback, 9780061718670, 368pp.
Publication Date: October 12, 2010
* Individual store prices may vary.
Buy at Local Store
Enter your zip code below to purchase from an indie close to you.
or
Buy Here
Description
"The Bible...is a locked treasure for those unfamiliar with the Scriptures....Beal offers a key with his accessible guide." --Cleveland Plain Dealer
"With skill and insight, Timothy Beal has given us a great gift: a lucid and engaging introduction to the most important book ever published." --Jon Meacham, author of American Lion, winner of the Pulitzer Prize
In the tradition of Stephen Prothero's Religious Literacy, and with the deftness of Bill Bryson's Mother Tongue, Timothy Beal's Biblical Literacy is a one-stop course in the Bible passages and background information that everyone needs to know to navigate our nuanced cultural landscape--from devout believers to decided atheists, average citizens to pop-culture aficionados. Like Religion in America, Religion and its Monsters, and other of his highly acclaimed books, Beal's Biblical Literacy is a must-have handbook for understanding today's world.
Praise For Biblical Literacy…
"Tim Beal has written about the rich, thick connections between the Bible and popular culture . . . In a society of deep and dangerous disconnects, the connects of this book serve exceedingly well."
-Walter Brueggemann, author of The Prophetic Imagination

"With skill and insight, Timothy Beal has given us a great gift: a lucid and engaging introduction to the most important book ever published."
-Jon Meacham, Pulitzer Prize-winning author of American Lion and editor of Newsweek

"No book has shaped more culture, value and meaning [than the Bible]. Beal skillfully retells key biblical narratives but also cogently relates them to significant events in history. This is a readable, informative and timely book."
-Harvey Cox, Hollis Research Professor of Divinity, Harvard University, and author of The Future of Faith

"For those who are approaching the Bible for the first time . . . there is no better place to turn than Timothy Beal's Biblical Literacy. Here you will find numerous gems of the Jewish and Christian Scriptures, along with pithy, helpful, and at times even witty, introductions."
-Bart D. Ehrman, James A. Gray Professor of Religious Studies, University of North Caroline, Author of Jesus, Interrupted

"A fun and refreshing reference that gives a fresh look at Bible stories many people thought they knew."
-The News-Herald

"Beal, who compiled need-to-know Bible stories in his new book, Biblical Literacy, talks about how these Sunday school stories are ingrained in pop culture. They are making appearances at your dinner parties, in your favorite music and in a theater near you."
-Religion News Service

"Beal makes a case for reading, and yes, enjoying, the Bible."
-Interfaith Voices

"In his new book, Biblical Literacy, he introduces readers to key biblical passages and their cultural significance."
-United Methodist Reporter

"Beal… makes a well-stated case that a knowledge of the Bible is essential to understanding our culture. His book will serve as a handy first step toward that goal-- especially for the reader who may feel intimidated by 'the boring bits.'"
-Bookpage