Marriage Confidential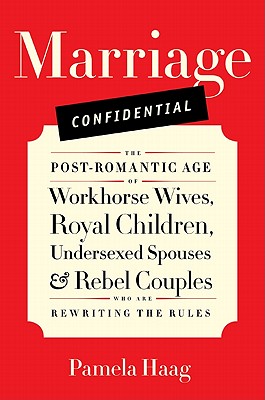 Marriage Confidential
The Post-Romantic Age of Workhorse Wives, Royal Children, Undersexed Spouses, and Rebel Couples Who Are R
Harper, Hardcover, 9780061719288, 352pp.
Publication Date: June 1, 2011
* Individual store prices may vary.
Buy at Local Store
Enter your zip code below to purchase from an indie close to you.
or
Not Currently Available for Direct Purchase
Description
Pamela Haag has written the generational "big book" on modern marriage, a mesmerizing, sometimes salacious look at the semi-happy ambivalence lurking just below the surface of many marriages today. The spouses may rarely fight—they may maintain a sincere affection for each other—but one or both may harbor a melancholy sense that something important is missing.
Remarkably, this side of the marriage story hasn't been told or analyzed—until now.
Meticulously researched and injected with insightful firsthand accounts and welcome doses of humor, Marriage Confidential articulates for a generation that grew up believing they would "have it all" why they have ended up disenchanted. Haag introduces us to contemporary marriages where spouses act more like life partners than lovers; children occupy an uncontested position at the center of the marital relationship; and even the romantic staples of sexual fidelity and passion are assailed from all sides—so much so that spouses can end up having affairs online almost by accident.
Blending tales from the front lines of matrimony with cultural history, surveys, and research covert-ops (such as joining an online affair-finding site and posting a personal ad in the New York Review of Books), Haag paints a detailed picture of the state of marriage today. And to show what's possible as well as what's melancholy in our post-romantic age, Haag seeks out marriages with a twist—rebels who are quietly brainstorming and evolving the scripts around career, money, social life, child rearing, and sex.
Provocative but sympathetic, forward-thinking and bold, here, at last, is a manifesto for living large in marriage.
Praise For Marriage Confidential…
"If you're coupled up—or want to be—you've got to read this."
-Glamour

"Haag's well-researched provocative study will get you thinking."
-People, "Great Summer Reads"

"The perfect book club choice.;. . . Free of the inflammatory politics and cultural baggage that usually accompanies the topic.;. . . It does make you reflect on modern mating habits. It's fun."
-USA Today

"[A] fun, interesting read."
-TODAY

"Pamela Haag takes a fresh look at the state of our legal unions."
-More

"Fascinating. . . . Couldn't be more timely or relevant."
-Huffington Post

"Provocative."
-The Times (London)

"Throughout her initial analysis she is spot-on. . . . [with a] sharp, erudite style . . . Haag has her capable finger on the pulse of the American marriage."
-Publishers Weekly (starred review)

"A startlingly honest and surprisingly funny account of marital discontent…. Avoiding comfortable bromides and rejecting the usual clichés, Haag reports on how married people really live these days…. This is one of the few books around with something new to say about the travails of modern love and coupledom."
-Laura Kipnis, author of Against Love: A Polemic and How to Become a Scandal

"Brilliant. . . . Marriage Confidential is both laugh-out-loud funny and gasp-out-loud shocking, and nothing less than a Feminine Mystique for our time. Mark my words, your marriage will change after reading this book."
-Debby Applegate, Pulitzer Prize-winning author of The Most Famous Man in America: The Biography of Henry Ward Beecher

"In this timely and thought-provoking analysis of modern coupledom, Pamela Haag paints a vivid tableau of the 'semi-happy' couple. Written with wit and aplomb, this page turner will instigate an insurrection against our marital complacency."
-Esther Perel, author of Mating in Captivity

"The personal is political after all. This first big history of the marriages of the post-feminist generation tells a riveting story of how socially empowered women-including many who opted out-and their mates are still struggling to find happiness in their personal lives."
-Linda Hirshman, author of Get to Work: . . . And Get a Life, Before It's Too Late

"[Haag] doesn't shy away from controversy in discussing how some marriage 'rebels' try to breathe new life into their relationships. A candid and thought-provoking read."
-Stephanie Coontz, author of Marriage, a History: How Love Conquered Marriage

"[Haag] wittily and meticulously explores what sets apart those who suffer quietly in their semi-happy marriages from those who take action-whether that action is working to improve the situation, splitting up, retreating to a man cave or having an affair."
-BookPage

"Marriage Confidential is so rare, such a pleasantly charming pearl of great price . . . You learn something, but you hardly notice because you're having such a good time.;. . . Flat-out brilliant."
-Washington Post Book World

"A fascinating journey through the evolution of marriage."
-Date Night Magazine

"I read it voraciously. . . . [Haag] is thoughtful, engaging, unconventional, and amusing."
-Bella DePaulo, Psychology Today

"The chances are, this book describes your marriage. . . . It's also an entertaining read."
-Mail on Sunday (UK)