This Will End in Tears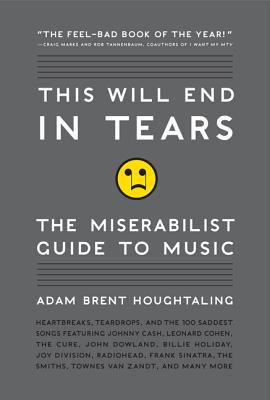 This Will End in Tears
The Miserabilist Guide to Music
It Books, Paperback, 9780061719677, 400pp.
Publication Date: August 7, 2012
* Individual store prices may vary.
Buy Now
or
Shop Local
Enter your zip code below to purchase from an indie close to you.
Description
Sad music moves us like nothing else, and despite its gloomy nature it also has the curious power to make us happy. In This Will End in Tears: The Miserabilist Guide to Music, author Adam Brent Houghtaling explains why, while offering up a compendium of history's masters of melancholy and the greatest sad songs of all time, featuring artists across genres and through timefrom torch songs to country weepers to emo classics. Loaded with recommended playlists and insights into our favorite sob songs, This Will End in Tears is a fascinating immersion into the "miserabilist" genre, a musical marker with increasing resonance.
About the Author
Adam Brent Houghtaling is an editor, writer, musician, and digital consultant living in Brooklyn, New York.
Praise For This Will End in Tears…
"A comprehensive, sharply written journey through the music of sadness, of every stripe and from every genre....Whether read straight through or dipped into at random, in times of despair or not, this is a most helpful musical sourcebook through every kind of blue."
-Kirkus Reviews (starred review)

"Highly entertaining."
-Publishers Weekly

"For the meticulously melancholy music fan in all of us, a celebration of songs with a dark side. This Will End in Tears gathers the downest, doomiest sounds in rock, soul, jazz, the blues, and any music that can put a serious chill in your evening."
-Rob Sheffield, author of Love Is A Mix Tape and Talking To Girls About Duran Duran

"Sad sacks of the world: Rejoice! Adam Brent Houghtaling has ingeniously compiled the ultimate guide to this cruel world's maestros of miserabilism. The feel bad book of the year!"
-Craig Marks and Rob Tannenbaum, co-authors of I Want My MTV: The Uncensored Story of the Music Video Revolution

"Breaking up is hard to do, but not when you've got a book like this to help you make the saddest playlist of all time. Now, someone pass me a Kleenex...and that Elliott Smith album."
-Leslie Simon, co-author of Everybody Hurts and author of Wish You Were Here

"Sad songs say so much, but Adam Brent Houghtaling has a lot to add to the conversation. This Will End in Tears is a book well worth wallowing in."
-Mark Yarm, author of Everybody Loves Our Town: An Oral History of Grunge