The Anti-Romantic Child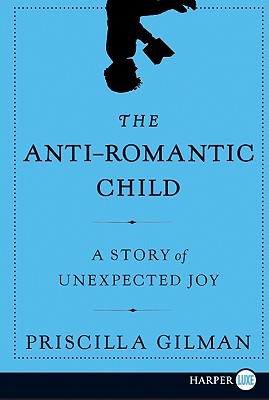 The Anti-Romantic Child
A Story of Unexpected Joy
HarperLuxe, Paperback, Large Print, 9780061720161, 419pp.
Publication Date: April 19, 2011
* Individual store prices may vary.
Buy at Local Store
Enter your zip code below to purchase from an indie close to you.
or
Not Currently Available for Direct Purchase
Description
"TheAnti-Romantic Child is remarkable. This haunting and lyrical memoir will bean invaluable and heartening guide to all who find themselves in similarsituations and indeed anyone confronting an unforeseen challenge." --MarieBrenner, writer for Vanity Fair andauthor of Apples and Oranges

With an emotionally resonant combination of memoirand literature, Wordsworth scholar Priscilla Gilman recounts the challenges ofraising a son with hyperlexia, a developmentaldisorder neurologically counterpoint to dyslexia. Gilman explores thecomplexities of our hopes and expectations for our children and ourselves. Withluminous prose and a searing, personal story evocative of A Year of MagicalThinking and A Year of Reading Proust, Gilman's The Anti-RomanticChild is an unforgettable exploration of what happens when we lean toembrace the unexpected.
Praise For The Anti-Romantic Child…
"Smart, soulful, and involving."
-Nick Hornby, The Believer

"Rapturously beautiful and deeply moving, profound and marvelous."
-Andrew Solomon, author of The Noonday Demon

"The Anti-Romantic Child is beautiful, poetic, and heartfelt. It's more than a mother–child story; it's a journey of self-discovery. It's a book every parent should read."
-Kathryn Erskine, bestselling author of Mockingbird and winner of the 2010 National Book Award

"Priscilla Gilman's lyrical narrative is profoundly moving and ultimately joyous. It eloquently touches the universal."
-Harold Bloom

"What a glorious book Priscilla Gilman has written. Lively, eloquent, straightforward, and insightful, The Anti-Romantic Child deftly delineates and negotiates the complex cross-currents of a life of the mind and a life of the heart."
-Sandra Boynton, children's book author and illustrator

"Every parent should read this luminous book to absorb or absorb again the truth that every child is a surprise—a revelation—to be uniquely learned and understood as well as loved."
-Mary Catherine Bateson, author of Composing A Further Life: The Age of Active Wisdom

"Unforgettable. . . . I couldn't put this book down."
-Gretchen Rubin, bestselling author of The Happiness Project

"This is a fascinating, tender, illuminating book about an extraordinary boy and his equally extraordinary mother. A wonderful read."
-Martha Beck, author of Expecting Adam and columnist for O magazine

"A book for all parents. . . . [Gilman's] poignant story of reconciling fantasy with reality is a universal story of parental growth. A story to inspire us all."
-Ellen Galinsky, the Huffington Post

"A fantastic memoir. . . . I loved this book."
-KJ Dell'Antonia, lead blogger for the New York Times Motherlode